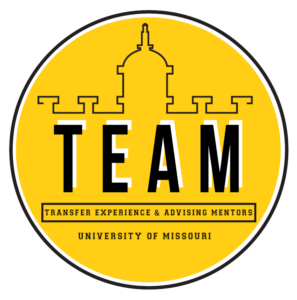 Transfer Experience and Advising Mentors (TEAM) exists to build community and promote knowledge of academic resources for incoming transfer students. This network assists students' growth through mentorship from previous transfer students who participated in the program, as well as through weekly meetings and events. No matter where your college story started, we're glad it led you here!
How to Get Involved
Fill out our TEAM Mentee sign up form to become a TEAM mentee and be paired with a Mentor. TEAM meets weekly on Tuesday nights at 6PM. Check out our event page for upcoming events. All transfer students are welcome!
For more information about getting involved, please contact our office (transfercenter@missouri.edu or 573-884-9700).