Students at the University of Missouri are the core of our institution and our future. We are dedicated to their success at MU and beyond. Mizzou is committed to enhancing student engagement and increasing the career readiness of its students.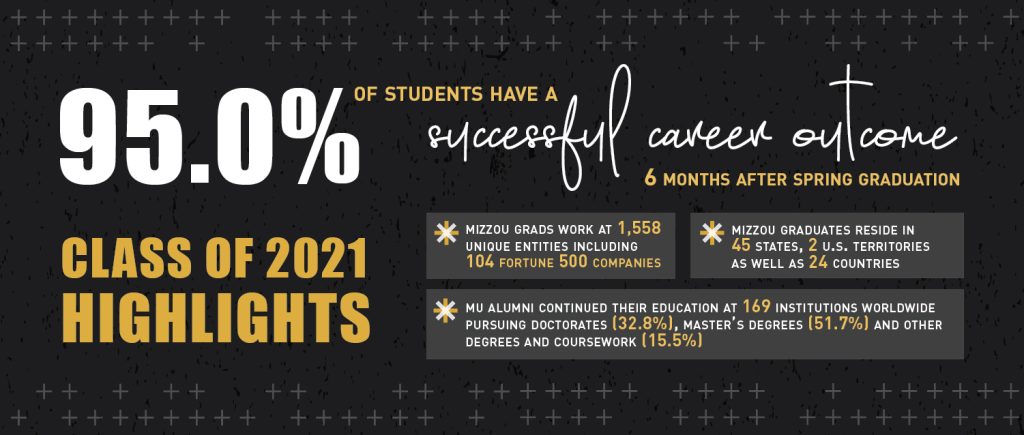 The MU Outcomes Survey provides insight into the career plans of Mizzou graduates and tells a story of student success. 95.0% of Mizzou graduates have successful outcomes within six months of spring graduation. The survey also provides detailed data on employment, salary, graduate school attendance and geographic location. The University of Missouri follows the NACE (National Association of Colleges and Employers) standards and protocols.
Please view the interactive graphs below to learn what Mizzou undergraduates are doing following graduation. For your reference, we have created an Executive Summary which includes details, definitions and helpful context as to how the outcomes information is collected and reported.
What are Mizzou grads doing?
Who employs Mizzou grads?
Where are Mizzou grads continuing their education?
Where do Mizzou grads live?
MU Alumni Impact and Reach
The data above is reported by recent alumni who graduated in the past six to 12 months. To see the full impact of Mizzou and the UM System, please visit Our Reach to view data on MU students, alumni, employees, economic development and extension services broken down by Missouri county.
Questions
For questions about the survey collection, reporting process or the survey data, please contact career@missouri.edu. If you don't receive a reply within two business days, please call 573-882-0878.
Success Stories