Published on March 28, 2017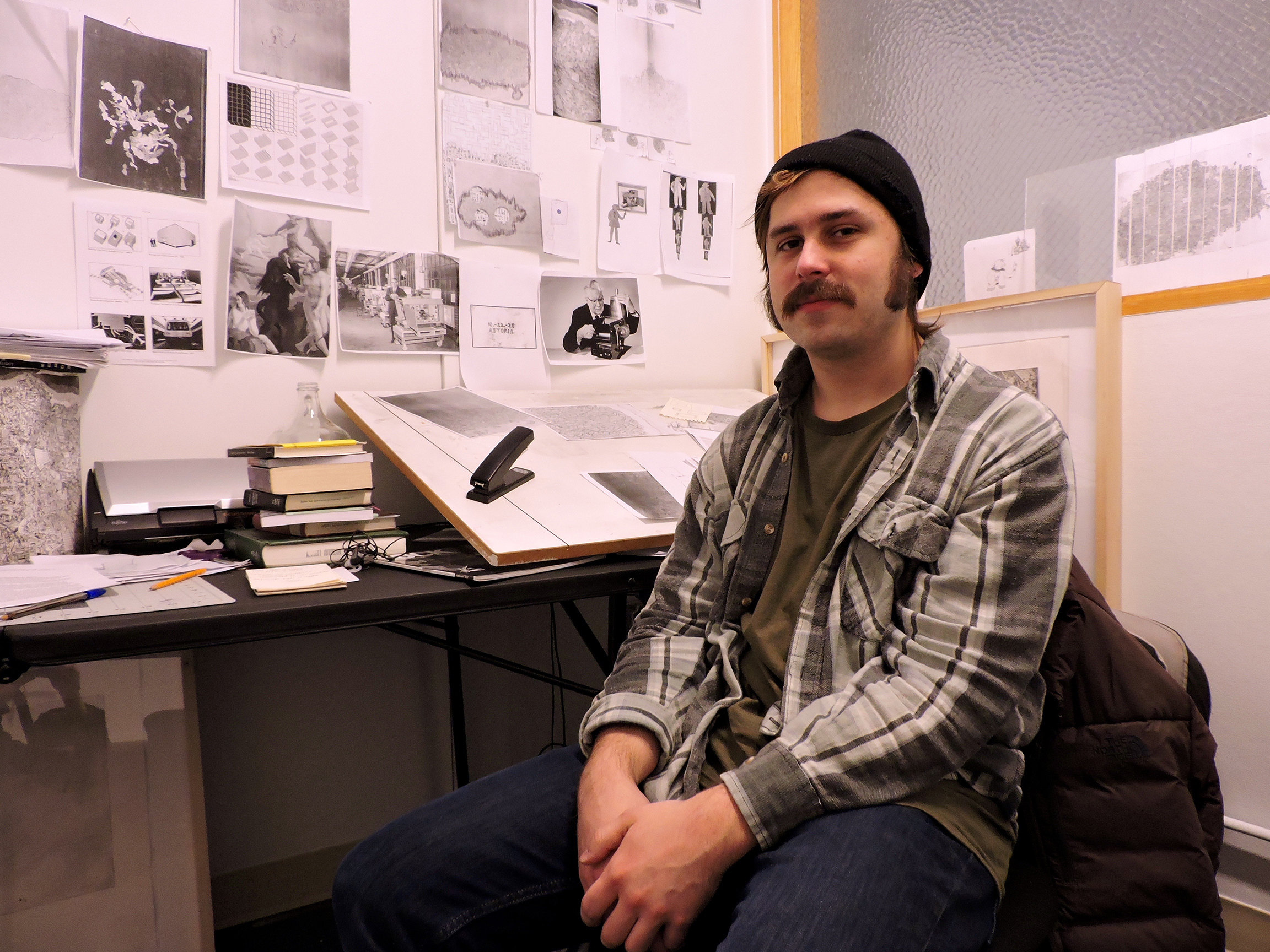 For senior art major Edward Henuber, history is interesting and inspirational. History influences his ideas and the process he uses to create his artwork.
"I'm interested in how we got to where we are today," Henuber says. "There are so many stories that have accumulated over time that are worth exploring."
Henuber finds the Industrial Revolution and the development of capitalism to be particularly intriguing. He tries to reference historical events like these in his art, which depicts an intricate and chaotic heap of cartoon buildings, machines, grids and other figures.
"My art looks kind of like a tangled up machine," Henuber says. "I think it's a metaphor for the important historical events that have piled up over the years. Since it's hard to be aware of all of this history every day, I'm trying to make people more conscious of it."
Because the history of printing fascinates Henuber, he uses a technique called intaglio printing that was developed in the 1400s to make his art. First, Henuber cuts a design into a copper plate. Then, he dips the plate into acid, which incises the image etched on the plate. After he removes the plate from the acid bath, he covers the plate with ink. Once the ink settles into the grooves on the plate, he wipes away the excess ink and places a damp piece of paper on the plate. He then uses a heavy roller that presses the plate and paper together. Eventually, the image on the plate is transferred to the paper, which is hung up to dry.
When he gets an idea for a print, he sits down, turns on music or the television and starts doodling. It usually takes Henuber two or three days to finish one of his prints, and he never plans the design in advance.
"It's a frantic stream of consciousness," Henuber says.
Several of Henuber's prints were on display at the 2017 Undergraduate Visual Art and Design Showcase. The showcase is a venue for students to display and discuss works of photojournalism, graphic design, architectural drawing, theater lighting design, painting, textile and apparel management, digital storytelling, floral design and more. Students also compete for more than $10,000 in professional development funds and other awards.
Henuber won the Sager Braudis Gallery Exhibition Award and Scholarship for his entry, which was called Piles. Sager Braudis Gallery is a fine art gallery located in Columbia, Missouri. It features rotating exhibits of local, regional, national and international artists. For winning the award, Henuber will receive a $3,800 scholarship and will have his art displayed in the Sager Braudis Gallery.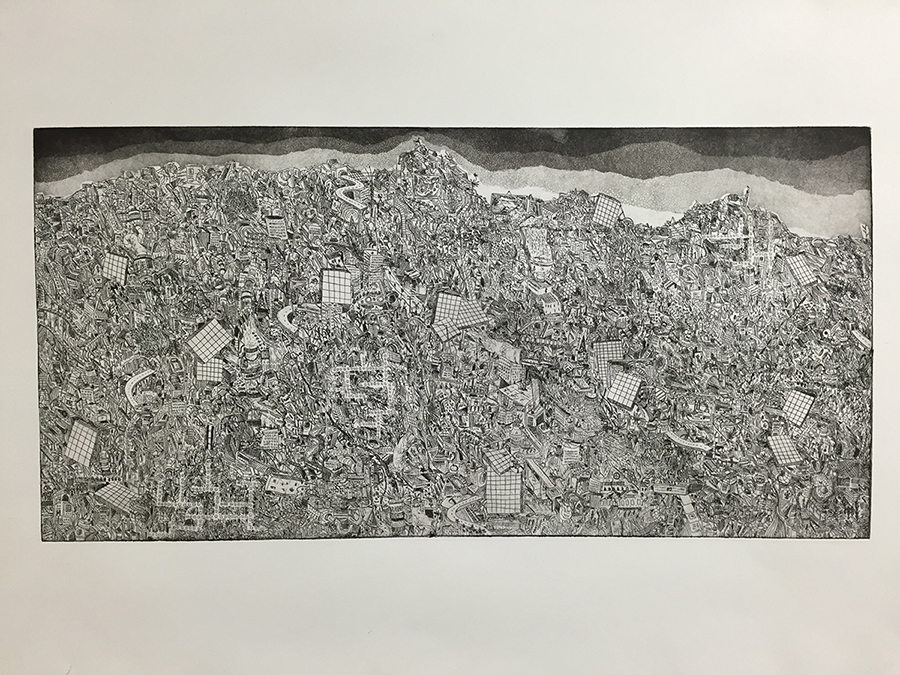 "I had no idea I was going to win an award," Henuber says. "When I found out I won, my parents were sitting next to me, so I hugged them and they got all teary. I was excited, and it felt pretty good."
Hannah Reeves, Sager Braudis Gallery director and curator, helped select the winner of the award. Henuber's work stood out to her because of the high level of thought and attention to detail required to produce the prints.
"Edward's art was presented well, and we thought it was beautiful, meticulous and would appeal to our audience at the gallery," Reeves says.
Sager Braudis began offering the award to MU students in 2016. Henuber is the second person to win it. Reeves says it is important for the gallery to not only exhibit art, but also support the Columbia community by recognizing talented MU artists.
"We're not just a retail business," Reeves says. "We're part of a really wonderful arts community here in Columbia. We work hard to be connected to the other entities and people who make up that community. The arts at MU are thriving, and visual art and design programs there are yielding thoughtful, skilled artists and designers that we're privileged to sometimes get to work with."
Henuber will graduate school in 2018. After that, he is considering teaching art because of the positive impact his Mizzou professors have had on his life. Not only did his professors introduce him to printmaking, but they also encouraged him to enter his work into the Undergraduate Visual Art and Design Showcase.
"My professors pat me on the back, but they also push me forward," Henuber says. "They have influenced the way I think and make things, and have kept me stoked on art throughout the years. It's exciting to speak with them about things because they like talking to you, helping you and engaging with you, which is what a good educator should do."