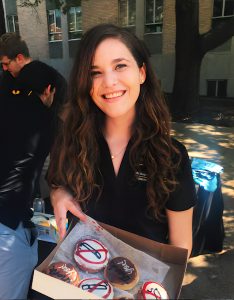 Sonia Clark
Although originally from Chesapeake, Virginia, Sonia Clark has called Columbia home for over 10 years. As a senior majoring in Health Science in conjunction with the Honors College, she has been an active health policy advocate for MU's Tobacco-Free initiative. In her work as a Lead Ambassador and Tobacco Cessation Research Assistant, Sonia presented MU's program at the American Cancer Society's Tobacco-Free Generation Campus Initiative Grantee meeting. Upon graduation, she will have served as an English-second language teacher for three years through the program International Friends and a Summer Student Ambassador for Mizzou's International Experience program. She is also an undergraduate Kinder Fellow who enjoys discussing public policy and politics amongst her peers through this academic fellowship program. In her research as a Ronald E. McNair Post-baccalaureate Achievement Scholar, Sonia works alongside Dr. Carolyn Orbann to address the epidemiological spread of the 1918 Influenza pandemic within Missouri. This summer, Sonia will be interning at the University of North Carolina (UNC) where she will work within the School of Medicine's IT division's Project Management team. This fall, she will stay in Chapel Hill to pursue her Masters of Health Administration at UNC.
Sally Cochran
Cochran, a senior pursuing a Political Science degree with a Business minor and Multicultural Certificate, came to Mizzou from Leawood, Kansas. She has spent the past four years sharpening her thinking, learning, writing, and communicating skills through classwork, research, and personal projects. Her time at the university has been defined by service, working alongside more than ten community organizations through her service sorority, volunteering for various festivals and events, and interning at Columbia Center for Urban Agriculture, a local nonprofit. After graduation, Sally will be serving with CityYear in Kansas City for one year and hopes to continue her education in law school sometime after her service.
Michael Dotzel
Michael is a senior majoring in mathematics and physics, with a minor in piano performance. He conducts research with Dr. Carlo Morpurgo on minimization problems concerning applications to such fields as theoretical chemistry. Michael has been afforded many opportunities, in particular participating in NSF-funded Research Experiences for Undergraduates at the University of Washington and the University of Connecticut. He was very fortunate to be a 2019 recipient of the NSF Graduate Research Fellowship. In addition, Michael has been active in sharing his passion for math and science in the Columbia community, and regularly gives talks at Hickman High School as president of the MU Mathematics and Physics clubs. He is also a member of the Mizzou Student Foundation, and has served as a Research Ambassador and Fellowship Ambassador. He enjoys thinking about mathematical and physical problems both pure and applied, and intends to pursue graduate school at their interface in oceanography at MIT.
Lorena Fernandez
Lorena Fernandez is a senior at the University of Missouri majoring in Psychology and Art with a minor in Leadership and Public Service. Since August 2016, she has worked as an IMSD-EXPRESS Fellow in Dr. Campione-Barr's Family Relationship and Adolescent Development lab studying adolescent communication, sexual health, and Latinx health. In June 2017 she worked as a community health educator with the Progressive Excellence Youth Organization (PEYORG) in Elmina, Ghana, teaching topics over sanitation and sexual health to children and adolescents aged 4-18 and working with mothers and their babies during monthly weighing sessions. This experience, among her other experiences in volunteerism, advocacy, teaching, and research, solidified her devotion to bettering adolescent and women's health and education through public health initiatives. As a FACETS Fellow over the summer of 2018 at Harvard University, Lorena conducted research examining the impact of intimate relationships on the health of transgender and non-binary young people under the mentorship of Dr. Madina Agénor, and Allegra R. Gordon, MPH, ScD. Upon graduation, Lorena will be working as a Youth Development Promoter in Costa Rica with the Peace Corps before pursuing a Master's degree in Public Health and ultimately a PhD.
Sarah Gebken
Sarah is a senior studying bioengineering. She conducts research in the lab of Dr. J. Chris Pires studying the use of genetic engineering tools on crops such as broccoli, kale, and kohlrabi. Sarah started researching as part of the NSF funded Freshman Research in Plant Sciences program. She has presented her research nationally and locally including at the 2018 Posters on the Hill in Washington D.C. She participated in an internship at Johns Hopkins University in 2017 and became a McNair Scholar that same year. Recently, she was awarded the NSF Graduate Research Fellowship for graduate school and will be heading to Washington University in St. Louis in the fall to pursue a Ph.D. in genetics.
Luke Guerdan
Luke is a senior studying computer science and psychology with a minor in math. As a researcher in Dr. Yi Shang's Distributed and Intelligent Computing Lab, he develops artificial intelligence methods for decoding human cognition and behavior. Luke authored several conference publications and is a Barry M. Goldwater scholarship recipient. Together with Dr. Shang and others, he co-founded TigerAware LLC, a mobile data collection platform being used at MU and universities nationwide. On campus, Luke served as president of the Mizzou Computing Association, and is currently a Fellowships Office Ambassador and a mentor through the Peer Undergraduate Mentoring Program. Luke spent a summer at the Berlin Institute of Technology through the DAAD RISE program, and another at the ESRI Research Institute. He also has an avid interest in other cultures, and has studied in Spain, practices vipassana meditation, and competes in international hackathons. After graduating in December, he hopes to pursue a career in artificial intelligence research and commercialization.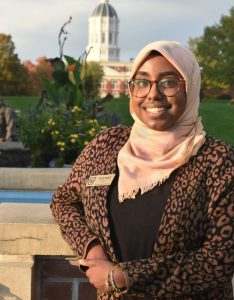 Maha Hamed
Maha Hamed is a senior majoring in biochemistry from Columbia, MO. Through the NIH funded Initiative for Maximizing Student Diversity Exposure to Research for Science Students (IMSD EXPRESS) Fellowship, Maha has worked in Dr. Antje Heese's research lab since her freshman year on Arabidopsis clathrin-coated vesicles (CCV) components in plant immunity. During her time in the Heese Lab, she has been able to prepare multiple posters and presented them at the national and international conferences. For the last four years, she has volunteered as a youth group leader for the local mosque in Columbia, MO and acted as a STEM advocate for a group of girls with the goal to build a community and a safe space for the kids. Maha's time under the mentorship of Dr. Heese fostered her curiosity in science, pushing her to seek a PhD in Molecular Biology at the University of Michigan.
Beck Jaeckels
Beck Jaeckels is a journalism major with a particular passion for advocacy and social justice journalism. In her time at MU, she focused on programs that would allow her to discuss student mental health, sexual violence, and discrimination of the LGBTQ community. After graduation, Beck will be returning to MU to earn her master's degree through the School of Journalism.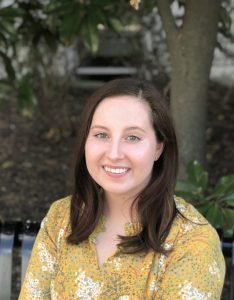 Sarah Jolley
Sarah is a senior from Columbia, MO majoring in English, History, and Political Science. For the last four years, Sarah has served on the Award for Academic Distinction's Student Planning Committee. In her time at Mizzou, she has pursued her interests in history, political science, and public affairs through MU's Civic Leaders Internship Program and the Kinder Institute on Constitutional Democracy's Society of Fellows and Kinder Scholars Program. As an Arts, Humanities, and Social Sciences (ASH) Scholar she conducted research with Dr. Daniel Domingues on the interdisciplinary research project Visualizing Abolition. Sarah spent last summer in Washington, D.C. as a research fellow with the Center for International Policy's Arms and Security Project and Foreign Influence Transparency Initiative. Last fall, she served as the University of Missouri's inaugural Oxford Fellow at the University of Oxford's Corpus Christi College. After graduation, Sarah plans to spend her gap year before law school serving with the AmeriCorps Texas Family Literacy Initiative.
Brittney Marshall
Brittney is a senior from Republic, Missouri majoring in Biology with minors in Spanish, Psychology, and Leadership & Public Service. She was selected to be a first- and second-year Discovery Fellow, ready to dive into research as soon as she arrived at Mizzou. For the last three years, she has worked in the lab of Dr. Cheryl Rosenfeld, where she uses mice to examine the effects of estrogen-like chemicals on behavior and the gut microbiome and metabolome. She loves communicating science with others; after winning first place in the Life Sciences Week poster competition as a junior, she was selected to represent Mizzou and present her research to Missouri state legislators in Jefferson City the following year. Outside of the lab, you can often find her volunteering around the community through organizations like Granny's House, Riley Equine Center for Therapeutic Riding, University Hospital, Peer Undergraduate Mentoring Program, and Alpha Chi Sigma Professional Chemistry Fraternity. Working with individuals with disabilities has always been one of her biggest passions, and she spent many of her school breaks working as an in-home aide for teenagers with autism. She will be attending the MU School of Medicine this fall.
Julie Nguyen
Julie Nguyen is a Chemical Engineering and Music double major and Math minor from Chesterfield, MO. She is an undergraduate researcher in Professor Bret Ulery's lab studying the mechanics of chitosan hydrogels to treat vertebral compression fractures in the spine. Julie has previously interned at the Idaho National Laboratory as a US Department of Energy SULI intern and at the Argonne National Laboratory as an SRP intern. While at Argonne, she won first place in an Ignite Talk competition for her 5-minture speech about tribology and bio-lubricants and was a finalist in the competition between Argonne and Oak Ridge National Laboratories. Julie also plays the viola in the University Philharmonic Orchestra, where she has had the opportunity to premier Andre Thomas' gospel inspired Mass and record new music compositions with the group. Every semester, she serves as a volunteer directing hundreds of high school musicians participating in bi-annual state music festivals and orchestra auditions.
Sarah Pribe
Sarah is a junior studying International Studies and English with minors in Linguistics and Russian. Since her freshman year, she has been part of the ASH Documenting Luyia research team run by Dr. Michael Marlo and Dr. Rebecca Grollemund. She was part of a team of 4 students that Dr. Marlo took to Bungoma, Kenya in July 2017 to study the Bukusu language where she worked extensively on Bukusu folktales. In 2018, Sarah received a Cherng Summer Research Grant from the Honors College which allowed her to travel to Mbale, Uganda in May 2018 to collect date on six dialects of the Gisu language. Thanks to continued support from the Honors College, English Department, and Linguistics Department, she was able to return to Uganda in January 2019 to continue collecting data on under-documented Ugandan languages. In addition to her research, Sarah is a tutor at the MU Writing Center, Vice President of Outgoing Exchange for AIESEC at Mizzou, and volunteers at City of Refuge as an English Language Buddy. Upon graduation in May 2020, she hopes to go to law school to study International Law and become a Human Rights lawyer.
Rohit Rao
Rohit is a senior majoring in Biology and Psychology. He works as an undergraduate research assistant under Dr. Kamal Singh and conducts research focusing on the biochemical characterization of HIV proteins. He has shared his work as a co-author in three peer-reviewed journal publications. Outside of research, Rohit is involved with many extracurricular activities at Mizzou. He is the President and Captain of the club tennis team and a member of the Mizzou Club Sports Federation (MCSF) Executive Committee. He led two service trips with Missouri Alternative Breaks. He served as a Fall Welcome leader and Step Forward Day leader. He was a supplemental instruction facilitator for Bio 2200 and an undergraduate TA for Bio 4990. Rohit was initiated into the Phi Beta Kappa honors society as a junior. Outside of Mizzou, Rohit volunteers with Medzou and Preferred Hospice. In his spare time, he likes to watch sports and play chess. Rohit currently plans on applying to medical school.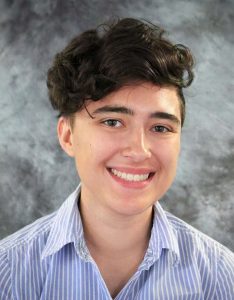 Tessa Valleroy
Tessa Valleroy is an Anthropology and Biological Sciences double major, and an English minor from Cape Girardeau, MO.  They have participated in four research projects including a project on French colonial holiday traditions in Missouri with Dr. Karthik Panchanathan through the Honors College Cherng Summer Scholars Program, a project on neandertal osteometrics with Dr. Libby Cowgill, a project on stress markers and bone strength with Dr. Libby Cowgill through the College of Arts & Science Undergraduate Research Mentorship Program, and a project concerning African Linguistics with Dr. Michael Marlo through the Honors College ASH program.  They serve as an ambassador for both the Honors College and the College of Arts & Science, and as an executive for the Quizbowl Club and the Anthropology Student Association.  In their free time, Tessa enjoys baking, writing, and tending their growing horde of house plants.
Swee-Yang (Ashley) Yong
The daughter of two immigrants, Ashley is a senior journalism major with minors in business and hospitality management. Hailing from the Chicago suburbs, she is passionate about social justice, altruism and first-year, at-risk students. Through her position as a resident adviser, she mentors first-year students through academic and personal challenges. Ashley is a member of the Honors College, Mortar Board Honor Society, Asian American Association and was selected for Mizzou '39. This summer, she will intern in the Dean of Student Office at Yale-NUS in Singapore. In the fall, she is pursuing a masters of arts in Higher Education and Student Affairs at The Ohio State University and will serve as the Social Justice Engagement graduate assistant in the Multicultural Center. Her goal is to serve as the Dean of Students at a public university.