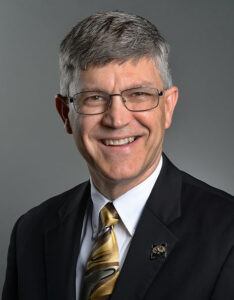 Vice Provost for Undergraduate Studies
Jim Spain describes his role as serving as an advocate for teaching and learning at the University of Missouri. He works with the undergraduate programs at MU to support all aspects of student success. The programs within the Office of Undergraduate Studies are:
Academic Exploration and Advising Services
Campus Writing Program
Career Center
Center for Academic Success and Excellence
Fellowships Office
Honors College
Learning Center
MU Connect
Multicultural Certificate
Service-Learning
Undergraduate Research
Spain serves on the Provost Staff and chairs the Undergraduate Deans' Council in addition to overseeing the Committee on Undergraduate Education (CUE) and MU's General Education curriculum. His office also directs the annual Celebration of Teaching, New Faculty Orientation and Teaching Renewal Week.
Spain became Mizzou's Vice Provost for Undergraduate Studies in August of 2007 after seven years as assistant dean for academic programs for MU's College of Agriculture, Food and Natural Resources (CAFNR). He came to MU in 1990 as an assistant professor and state extension dairy scientist. Spain became an associate professor in 1996 and continued with University Extension through 1999. He became a professor of animal science in 1999 and continues to serve as a faculty member in CAFNR, as well as serving as a faculty adviser for students in animal science.
In 2011, Spain added the title of vice provost for eLearning, providing guidance for Mizzou Online. In the past six years, Mizzou Online has seen a large increase in programs offered and courses available, along with students enrolled.
Spain has received a multitude of awards, including MU's prestigious Kemper Teaching Fellowship in 2001 and the Excellence in Advising Award at Mizzou in 2000. In 2002, Spain was presented the Governor's Award for Excellence in Teaching in Higher Education and in 2007 he earned the Golden Apple Award for Excellence in Teaching.
His research topics have included Interaction of Nutrients in Diet of Lactating Dairy Cattle, Effect of Nutrition and Environment on Animal Health, and Production and Interaction of Nutritional Status and Reproductive Performance. He has published numerous journal articles, abstracts and book chapters and served as the Principal Investigator on several grants and gifts.
Spain graduated with a bachelor's of science degree in animal science from North Carolina State in 1984. He earned both a master's in dairy science (1987) and a doctorate of philosophy in animal science (1989) from Virginia Tech.
Professional History
2011-present: Vice Provost for eLearning, University of Missouri
2007-present: Vice Provost for Undergraduate Studies, University of Missouri
1999-2007: Assistant Dean for Academic Programs, College of Agriculture, Food and Natural Resources, University of Missouri
1999-present: Professor, Animal Science, University of Missouri
1996-1999: Associate Professor and State Extension Dairy Scientist, Animal Science, University of Missouri
1990-1996: Assistant Professor and State Extension Dairy Scientist, Animal Science, University of Missouri
1985-1989: Graduate Research Assistant, Dairy Science, Virginia Polytechnic Institute and State University
Honors and Awards
Iron Mike Award for Support and Service to ROTC, Mizzou Reserve Officer Training Corp, 2014
Mizzou '39 Mentor, Mizzou Alumni Association Student Board, 2013
Faculty-Alumni Award, Mizzou Alumni Association, 2011
Alumni Honorary Membership Award, College of Agriculture, Food and Natural Resources, 2011
Mizzou '39 Mentor, Mizzou Alumni Association Student Board, 2011
Omicron Delta Kappa Honorary Tap, University of Missouri, 2008
Golden Apple Award for Excellence in Teaching, College of Agriculture, Food and Natural Resources, 2007
Purdy Award for Excellence in Student Services, College of Agriculture, Food and Natural Resources, 2006
QEBH Honorary Tap, University of Missouri, 2003
Alpha Gamma Rho Inductee, Social Fraternity, 2003
Governor's Award for Excellence in Teaching in Higher Education, University of Missouri, 2002
Kemper Teaching Fellowship, University of Missouri, 2001
Excellence in Advising Award, Mizzou Advisors' Forum, 2000
Outstanding Teacher Award, Midwestern Section, American Dairy Science Association, 1999
Outstanding Teaching Award, Ag Student Council, University of Missouri, 1999
Outstanding Teacher Award, College of Agriculture, Food and Natural Resources, University of Missouri, 1999
Green Chalk Award, MU Student Life, University of Missouri, 1996
Outstanding Adviser, Ag Student Council, University of Missouri, 1996
Provost's Award for Creative Extension Programming by New Faculty, University of Missouri, 1993
Outstanding Undergraduate Adviser, College of Agriculture, Food and Natural Resources Student Council, 1993
Outstanding Graduate Teaching Assistant, Department of Dairy Science, Virginia Polytechnic Institute and State University, 1989
Education
Doctorate in Philosophy, Animal Science, Virginia Tech, 1989
Master's of Science, Dairy Science, Virginia Tech, 1987
Bachelor's of Science, Animal Science, North Carolina State, 1984