The Write Stuff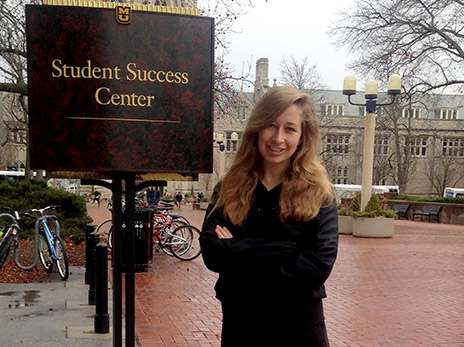 A music composition and geography double major, MU senior Haley Myers writes more than music as she puts her skills to work as a tutor at the Writing Center, a position she's held for over three years.
A Columbia native, Myers has always enjoyed music. She grew up taking piano lessons and was part of her high school band. After attending summer composition camps at Mizzou and learning more about the MU composition program—as well as the scholarship program for composition majors—she decided to stay in her hometown and attend MU, where she's had great success in more than just her music career.
As a sophomore she decided to become a tutor at the Writing Center after taking multiple classes with Rachel Harper, the director of the center for the last eight years.
"Dr. Harper asks the best questions of any teacher," Myers says. "She encourages students to be as creative as possible in writing. Her teaching is the perfect combination of fun, challenging and thought-provoking."
Harper teaches the Theory and Practice of Tutoring Writing, a required course for anyone who wishes to become a tutor at the Writing Center. The course is rigorous, Harper says, but is essential to being an effective tutor. "Anyone who takes it learns things they didn't think they'd learn," she says.
After taking classes in the Honors Humanities Sequence with Harper, who directs the sequence, Myers knew she wanted to continue taking Harper's courses. As she's always enjoyed writing, she figured the tutoring class was the next best step.
It turns out it was.
The class teaches students much more than simple writing or editing skills. It covers things such as brainstorming techniques, writing personal statements, working with writers from different disciplines, handling plagiarism, integrating research and more.
The interdisciplinary aspect of both the class and of being a tutor is something Myers, who has tutored for the center ever since she took the class, enjoys the most about the job, and it's made it both rewarding and educational.
"I've learned so much about interdisciplinary topics because I work with students from all majors," she says. Students with any major, in any class may make an appointment for an hour-long tutoring session at the Student Success Center, which houses the Writing Center.
Regardless of the assignment students are working on—a paper, an article, a short writing assignment, a fellowship application or any other writing-related project—and how far along they are, the students and the tutors work together to address any concerns the students may have. Whether that's making the piece more complete, using more details, outlining the assignment or even brainstorming ideas for the piece, the tutors and students collaborate to improve the final product.
"The ultimate goal is to empower the students in the writing process, so it's not just a quick fix," Myers says. "The goal is to help you leave feeling less stressed out and more confident in expressing your thoughts."
And although the center aims to help students feel better about their writing skills, it often gives the tutors, themselves, more confidence in their own writing abilities, as well.
"Tutors have shared with me how much they've learned about their own writing by working in the Writing Center," Harper says. Myers agrees, saying she's learned so much in helping students improve their papers and assignments for the past three years.
She's also seen great success in her music studies. Last year, she worked with a group of female journalists who were putting together an oral history project for the Journalism and Women Symposium titled "Herstory." She composed music and played the piano for the online project.
"That was a really interesting process because it had to fit the vision of the people I was working for rather than my own vision," Myers says. "I'd never written music for a published website before, so it was a great opportunity for me."
Myers is currently waiting to hear the results of her Fulbright application, for which she was accepted as a semi-finalist. She will interview for the scholarship in less than a month, and if selected, hopes to get her master's degree in music psychology in England, researching the effects of participating in music has on people.
Ideally, Myers will use all of her studies and experience from Mizzou—music studies, geography studies and writing tutoring —in her future career.
"I love writing," she says, "so I definitely hope to incorporate it into my career. But I also enjoy looking at how music affects our sense of place. Doing research on how music relates to the places that it's played or produced in or where it's listened to" in either an academic or professional realm is a possibility, she adds.
Working with students like Myers, Harper says, is one of the best parts of directing the Writing Center.
"Haley took five honors courses with me," she says, including all four semesters of the humanities sequence and the tutoring class. "I have known her since her freshman year, and here she is getting ready to graduate. Haley is the kind of student who reminds me why I love teaching."