Published on Feb. 23, 2021
Anyone close to TRiO knows the name is a bit of a misnomer. Not only is the federally funded educational effort no longer limited to the original trifecta of programs associated with its inception in the '60s, but its impact on students is practically limitless.
Lisa Scheese, a coordinator for the University of Missouri's TRiO Student Support Services, knows this from experience. A Columbia "townie" and a first-generation college student, Scheese took advantage of TRiO's string of student support services — advising, mentorship, financial support (and guidance), tutoring and career connections — en route to a bachelor's degree.
But it was yarn that wove its way into Scheese's heart.
"The TRiO office hosted a knitting activity in the winter, and I thought, 'How hard could knitting be?" says Scheese. "I was terrible at it. I didn't have enough patience. But four years later, there was my TRiO advisor at my graduation with a box and the intricate shawl I had tried to knit.
"So, when you think of TRIO, think of it as if it is a family."
At Mizzou, that family lineage dates back to our nation's bicentennial, when Learning Center Director Bonnie Zelenak applied for, and received, the U.S. Department of Education grant in 1976.
MU TRiO Student Support Services serves nearly 700 degree-seeking undergraduates each year through a range of services in six main categories: academic, financial, social, professional/career, leadership development and cultural competency. To qualify, TRiO students must be either first-generation college students, Pell-eligible or have a documented disability.
Mizzou's TRiO Student Support Services — one of two TRiO projects at MU (McNair Scholars, a paid undergraduate research and graduate school preparation program, is also under the TRiO umbrella) — is the second largest program of its kind in the country. It's also extremely successful. In the 2019–20 academic year, the program's retention and good-academic-standing rates were a stunning 91.3%. The program's six-year graduation rate of 73% among participants is more than 20 points higher than the rate for non-participants from similar programs reported in a study by the U.S Department of Education.
"We try our best to provide life-changing experiences for students here at MU," says Michael Perkowski, Student Support Services program grant manager. "The difference between having a college degree and not having a college degree has a lifelong impact."
To mark National TRiO Day, Wednesday, Feb. 24, Mizzou is hosting a virtual event that brings together both Student Support Services and McNair to celebrate program participants, alumni, and, for the first time, recognize a TRIO Champion who advocates and supports TRIO programs on campus.
"TRiO students are exceptional and they contribute a great deal to the university and community at large," says Kate Dunlap, TRiO advisor for students in the Trulaske College of Business. "Our students are involved in a wide variety of organizations at Mizzou and can be found on every corner of campus. It's a privilege getting to work with these students every day."
Read on about three current Mizzou TRiO students worth celebrating.
Elizay Bravo
The son of Guatemalan immigrant farm workers, Elizay Bravo didn't dare dream of college as a boy. No one in his lineage had ever attended, and his family bounced from North Carolina, to Virginia, to Florida during his childhood.
Then, in middle school, he discovered the Immokalee Foundation, a philanthropic group that pairs children from migrant communities with local mentors. Bravo's mentor encouraged him to pursue higher education.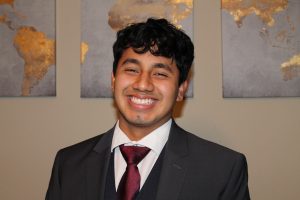 "I took classes at a community college," Bravo says. "At first, I thought I wanted to be a civil engineer because I loved building Legos."
Through an honors program, Bravo studied abroad in Nicaragua — interviewing revolutionaries and cultivating an interest political science. Yet, when a college advisor gave him a flyer for the MU Trulaske Business Academy, an unexpected path to the Show-Me State materialized. After the weeklong experience in Columbia, Bravo was sold on black and gold.
He has continued to take advantage of student success resources through TRiO — attending guest lectures, regularly seeking out tutoring and getting help applying for internships.
Now, as a double major in marketing and political science, the Renaissance man hopes to tie it all together by running for public office someday …. And eventually investing in real estate … Oh, and writing music (he plays keyboard).
"I'm not sure what direction I want to go," Bravo says. "I'm still exploring."
Kyra Colbert
"Introverted" or "quiet" wouldn't typically be words applied to someone as involved as Kyra Colbert, but that's exactly how the Kansas City, Missouri, native and KC Scholar describes herself.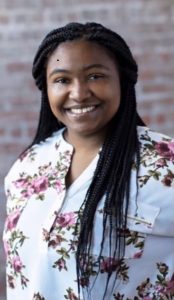 "I spent a lot of time in high school trying to learn how higher education works and how to pay for college, watching panels on YouTube, admissions events online and talking to counselors," says Colbert, a sophomore journalism major. "I thought enrolling in college meant I had 'made it.' But that's when I really started learning about the opportunity gap, awareness gap, achievement gap and the things first-generation students experience."
Colbert hit the ground running at Mizzou. She volunteered as a TRiO peer mentor, which pairs Tigers from similar backgrounds, and as a tutor for Jump Start, through which college students teach at elementary schools. She also joined the National Association of Black Journalists, Elite 23 (a Black women's empowerment and mentorship organization) and the Mizzou Black Women's Initiative.
Colbert considers herself a "social entrepreneur" and hopes to parlay a strategic communication degree into a career preparing K–12 children for higher education. In fact, Colbert's college journey has been so inspiring that it motivated her mother — a KC Scholars Adult Learner Scholarship recipient — to return to school and finish her associate degree at Penn Valley Community College.
"We're going through everything together and learning about ourselves at the same time," Colbert says. "Now, I'd describe myself as more of a confident introvert, and that's not a bad thing."
Hailey Swick
The oldest of five siblings from the tiny agricultural community of Virden, Illinois, Hailey Swick created her own path to her dream school. The odds were stacked against her financially, and there was no one in her family who could provide a road map to higher education.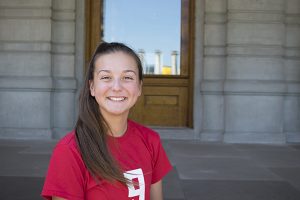 "After I visited Mizzou, I knew there was no other school for me," Swick says. "It just felt like home. Since I didn't get an academic scholarship, I applied for every local scholarship I could find."
During the admissions process, Swick met Scheese. The two bonded as Scheese walked the new Tiger through the TRiO Student Services Program's resources.
"Here I am, overwhelmed with the whole college process, and this program comes along out of the blue to answer all my questions and help me out," Swick says. "Having siblings has motivated me to learn everything I can to help them someday."
Swick immediately found a job answering phones for the MU Office of Student Financial Aid, another unforeseen benefit that gives her insight into processes and procedures. She has made lifelong friends through her TRiO Freshman Interest Group, settled on a major (health sciences with her sights set on occupational therapy) and even joined the MU Tour Team.
But Swick says it's the MU TRiO Student Support Services team that has provided invaluable resources and unwavering guidance.
"There's a place for everyone at Mizzou, and TRiO is one of those great places," Swick says. "It has provided me so many connections and offered support when I have needed someone to talk to. It has laid the groundwork and foundation for my entire experience at Mizzou."