Published on March 29, 2016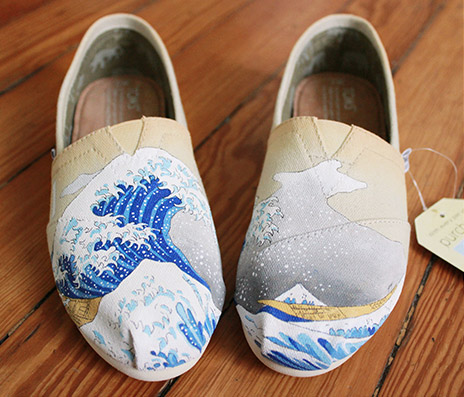 Small business owner Lauren Rundquist never imagined she would be serving clients around the world while at the same time giving back to the community.
"My goal is to make other people happy, to bring joy to others" says Rundquist, a senior strategic communications major with minors in business and entrepreneurship at Mizzou.
In 2012, Rundquist started LaQuist, hand-painted, custom shoe business. She chose shoes as her canvas because it is a unique form of "mobile and wearable art."
"Rather than painting something that hangs on someone's wall and really isn't shared that often, I can paint something that people will take with them wherever they go," Rundquist says.
Today, LaQuist is much more than a custom shoe business.
"I look up to unique and socially conscious business models and the interesting ways people have found to combine business and giving back," Rundquist says.
Rundquist recently arranged a citywide shoe drive to benefit Solea Water—a non-profit organization dedicated to bringing clean water to poverty-stricken communities in Latin America. Rundquist involved student groups and professional organizations and asked anyone with used or new shoes to donate with all shoes collected being used to benefit Solea Water.
LaQuist also supports TOMS One for One program. With every pair of LaQuist hand-painted TOMS purchased, TOMS matches by giving a new pair of shoes to a child in need.
This type of charitable business model is familiar to Rundquist, who began making handmade products when she was in the third grade and always donates her profits to charity.
Some of her shoe designs are inspired by nature and vary from floral patterns to sport themes and include designs created by the customer. LaQuist has served customers in six continents and, at one point, became so successful that Rundquist had to slow down demand to keep up with orders.
"I realized that I wasn't able to keep up to the demand by myself, especially as a full-time student," Rundquist says. To slow down the orders, she took her most popular items off her website in order to prioritize school over business until she graduates in May.
"That was definitely one of the biggest challenges I've faced in my business so far," Rundquist says.
Rundquist is a member of Omicron Delta Kappa, Mizzou '39 Class of 2015 and is a member of Griffith's Leadership Society for Women. With graduation on the horizon, Rundquist plans to continue her collaborative shoe lines between LaQuist and various charities and non-profits.