Published on April 11, 2017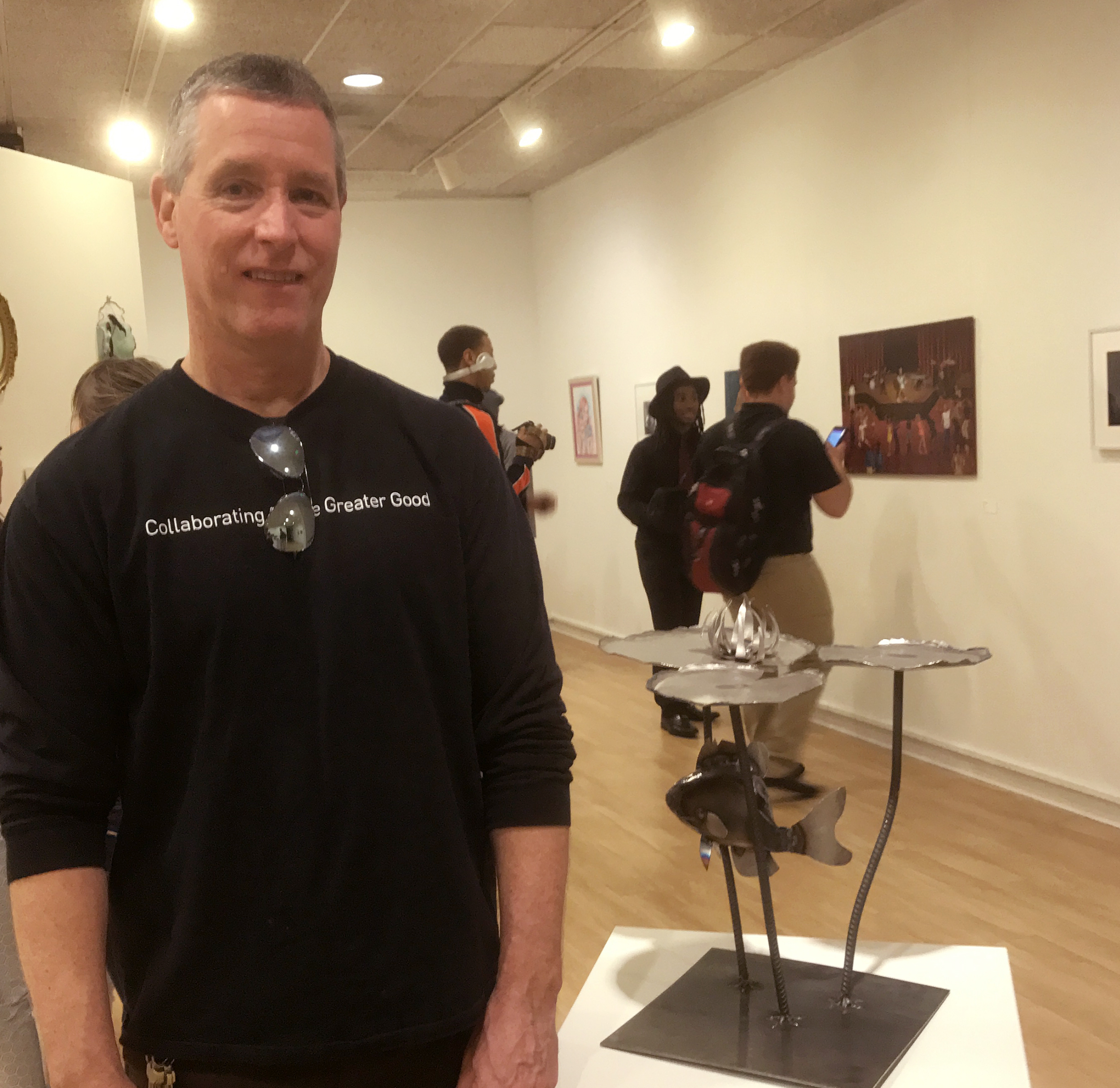 Jim Reese has spent more hours than most do on a college campus. As a staff member in the Division of Animal Sciences and both an adjunct faculty member and student in the art department, he is familiar on all sides of the desk. Now, he is also a winner of an award from the Undergraduate Juried Art Exhibition, which will allow his sculpture art to be displayed on Mizzou's campus.
Reese has been working at MU in various roles for over 20 years, including as a professor, a graphic designer at KOMU and a senior multimedia specialist. His jobs before coming to Mizzou were nearly as wide-ranging as they are now, having previously worked as an editor, a publisher, an art director, a graphic designer, a photographer, a typesetter, a website developer and much more. One job led to one another, but the root of it all was college.
He studied painting and sculpture in college, which led to a job as an illustrator after graduation. Graphic design followed and, after various jobs, he ended up at MU.
After 35 years away from art, he is back in the classroom as an undergraduate student taking sculpture classes in whatever free time he can find after working during the week, teaching on the weekends and building cars.
His wife, who is a professor in the art department, encouraged him to take classes. After hearing his desire to learn how to weld for his car hobby, as well as his hopes of getting back into art, she encouraged him to take a welding and casting class she had heard about.
"That's what got me going," Reese says, "I had so much fun, I just kept going." He has since taken intermediate sculpture and advanced sculpture. These classes led to his most recent achievement: winning an award for his art.
Three MU Purchase Awards were selected during the Undergraduate Juried Art Exhibition hosted by the Caleb Bingham Gallery. The exhibition featured the artwork of undergraduate students. The purchased work will be displayed on campus or other places such as the Missouri State Capitol.
Reese's work—a welded steel sculpture called "Flashing Fish"—was the first 3D piece he had ever entered into an exhibition. One of his professors, Jim Calvin, had mentioned the show and Reese figured he would try.
"I didn't think I'd win anything at the exhibition," he says. "I just thought it would be fun to hear and see peoples' reactions to my piece."
He put the sculpture together in his intermediate sculpture class. Reese had been working on a number of projects to try to create motion in the sculpture. This particular piece, which was inspired by his and his family's long-held passion for fishing, was meant to make the steel fish appear to be swimming through water, a difficult task for a still sculpture.
In the sculpture, the fish appears to be suspended in water with lily pads and other underwater objects. Reese welded the fish to the swaying lily pads and angled the fish to make it look mid-swim.
He thought it turned out well—especially the piece's motion and definition of space—and he was excited to receive feedback from others at the exhibition. When his name was announced for an award, he was very surprised.
"There was quite a bit of nice work in the exhibition," he says, so for his sculpture to have won anything was an exciting honor. To have his work purchased and displayed at Mizzou was even better.
The Undergraduate Juried Art Exhibition has only increased Reese's passion for learning about and making sculptures, and he intends to continue taking art classes for as long as he can. The classes are certainly fun, he says, but they have the added benefit of improving him as a teacher.
"[Being a student] gives you a whole different perspective on how students view classes," Reese says. "It's been helpful for me in teaching to know how it is to sit there as a student. I've improved my communication of expectations and goals for the students, and I've adapted my teaching to different ways and rates of learning."
Reese hopes to continue his roles at Mizzou for a while, in addition to continuing to create sculptures.