Published on April 29, 2016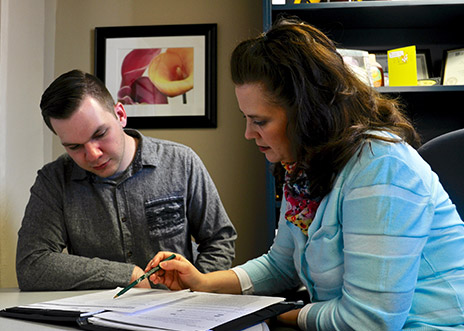 To help students recognize that on-campus employment is more than just a way to earn money, the MU Career Center has unveiled two programs designed to actively engage campus supervisors and student employees in learning, reflection and career development.
The Supervisors Encouraging Excellence and Development (SEED) Program will provide supervisors with online resources and training that will enhance their management skills. The Guided Reflection On Work (GROW) Program encourages student employees and their supervisors to have brief, structured conversations designed to help students connect what they are learning in the classroom to their paid positions. Both programs are voluntary as students and supervisors can choose to participate.
Amanda Nell, a senior student service coordinator at the Career Center, believes the 8,000 part-time student employees at MU will benefit from the SEED and GROW programs.
"If students understand the impact they have, that the work they do matters, and how it fits in with this big machine we call Mizzou, I think they'll appreciate that," Nell says. "They will be more willing to take ownership and pride in the work they do."
The Career Center piloted the program with more than 150 student workers in spring of 2015. Assessments given to students before the pilot program began and after it ended indicated student employees saw greater connections between their jobs and their academic majors, coursework and career goals. Because the program was successful, Nell and Career Center staff came up with a plan to promote the program, develop materials and train interested supervisors.
"I want to encourage my colleagues to think outside the box by taking the time to think about the unique talents and strengths each student worker has," Nell says. "They can assign work that's meaningful that the student would be really good at."
Nell practices GROW principles with the student workers she oversees in the Career Center. When she found out one of her employees liked to write, she gave him the opportunity to write for the Career Center's blog.
"It was perfect because it filled a gap," Nell says. "It was a need we had and it was a talent he possessed, so he found it more meaningful. As a supervisor, you also find out ways students can help you be productive in ways you've never thought about."
To gauge interest in SEED, the Career Center sent out a survey to 1,000 supervisors seeking student employees. Of the 256 responses the Career Center received, 195 expressed desire for the opportunity to further develop supervision skills, and more than half of the respondents had never or rarely received similar training at MU.
The SEED Program includes a website where supervisors can read and download advice and materials regarding work culture, motivation, positive employee discipline, recognition and other key supervision topics.
"It's a place for supervisors to share issues, frustrations, best practices and hopefully get some good nuggets of knowledge and wisdom they can use with their own student staff," Nell says.
In addition to posting online resources, the Career Center will host monthly events, such as brown bag lunches and webinars, where campus supervisors can view presentations, network with each other and share best practices. The programming is scheduled to begin in June.
Nell says that while student employees will benefit from the programs, she knows from personal experience that supervisors who get involved will also find value.
"Understanding what you do well and things you could improve are really important," she says. "When I first started supervising, I didn't really know what I was doing, but luckily, I was around people who had experience and could share best practices."