Art with a Personal Touch
Senior Madalynn Olmsted brings attention to mental illness through art.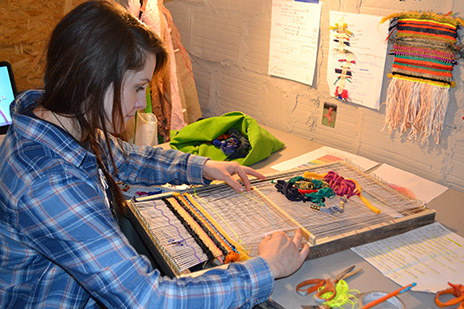 Senior Madalynn Olmsted's artwork draws upon her experience with mental illness and brings awareness to the prevalence of mental illness in today's society. Olmsted uses drawings and embroidery of birdcages, childhood toys, razor blades, chains, pill and alcohol bottles, barbed wire and the distorted human figure to illustrate the lifelong impact of childhood abuse and neglect.
"I romanticize mental illness to force my viewers to be immersed in a taboo subject that society tries to ignore," Olmsted says. "I hope to educate the public and reduce the stigmas associated with mental illnesses to promote healthy healing and recovery in today's stressful world."
Olmsted has displayed four sculptural fibers works entitled Nurture, Lost, Harmful Home and Healing in the Undergraduate Visual Art and Design Showcase in January where she received a $250 merit award for funding professional development. She then displayed the same works in the Undergraduate Juried Exhibition in February at the George Caleb Bingham Gallery.
For her project, Healing, Olmsted used hand-dyed silk organza to illustrate cutting, a form of self-mutilation. According to Pazia Mannella, Olmsted's faculty mentor at MU, the book's fabric is slashed and embroidered with deep red thread that progresses to deeper shades as the viewer progresses through the book, like an open wound. In the book's final pages, the wounds have healed, illustrating the end of the self-harm pattern.
"Madalynn's work demands the viewers to personally address their thoughts and emotional reactions to these important mental and physical illnesses," Mannella says "She is fearless in her work."
Children often don't know how to report abusive behavior and are unaware they are being abused, Mannella says. It is common for them to suffer from mental illness, be suicidal and abuse drugs and alcohol. It is certainly a topic many would prefer to ignore or pretend didn't exist, she says.
Olmsted's interest in understanding how the mind works developed when she was a child, possibly struggling with an undiagnosed mental illness.
"I was confused and didn't understand why I was feeling the way that I did, so I always kept my ears open to others' stories to see if my experiences were normal," Olmsted says.
Olmsted has always been artistic, but believed she would not be able to make a career out of art. She learned otherwise after being hospitalized due to mental illness halfway through her sophomore year at Mizzou. She failed all of her classes that semester, except for her fibers class, in which she received an A. Olmsted switched her major to Fine Arts, and has been wrapped up in following her passion ever since.
"Creating art is my therapy and it is how I express myself. But art is so much more than just the expression of an individual," Olmsted says. "It can become a visual platform to bring awareness to sensitive issues, and it can create a sense of belonging among the most diverse audience. It helps us to explore the inner workings of our minds, and it brightens our daily lives."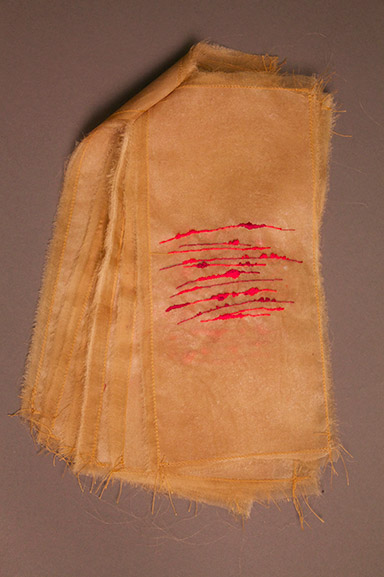 Olmsted is currently focusing on the Emerging Artists Residency she has been awarded by Columbia's Resident Arts. The program provides emerging artists with one-on-one career consulting, the opportunity to participate in up to five professional development workshops free of charge, documentation services and 24/7 access to studio space. Olmsted's residency began February 5 and will continue through June.
The program requires its selected students to research, produce, and present to the public one large-scale project or a series of smaller works. At Columbia's Resident Arts gallery, she will be displaying a series of weavings that illustrate the daily rollercoaster of emotions felt by those affected by mental illness.
"It's unique to find projects that deal with very heavy issues in such a way that it doesn't diminish the issues themselves," Madeleine LeMieux, founder of Resident Arts, says. "I'm impressed with Maddie's ability to provide an insider's perspective about mental illness by being so open about her own experiences. Her work is visually striking."
Olmsted plans to assign a different color of yarn or material to each emotion, activity or trigger point. Each weaving will have its own key that documents each material used and what it represents. The key will need to be read before one is able to understand the entirety of the piece, she says.
"I hope to create a space for my audience to compare their daily routine to the daily routine of the mentally ill," Olmsted says. "Our minds and emotions are all incredibly complex and unique to each one of us based on an infinite number of variables."
Through Facebook support groups, Olmsted has come into contact with people of all ages from Australia and the UK who, in addition to MU students, have lent her their daily emotion logs so she can transform them into a tactile weaving to represent post-traumatic stress disorder (PTSD), borderline personality disorder, depression, anxiety and bipolar disorder.
"Hopefully, this series will bring awareness to the reality of living with a mental illness, thus encouraging community learning, empathy, prevention and recovery."
The opening night for the Resident Arts showcase is June 3.
Olmsted hopes to continue creating art at an exhibition level and eventually attend graduate school. She never wants to stop learning.
"To me, art is life; I live and breathe to create," Olmsted says. "I believe art can help us all heal, relax and get in touch with our creative sides."