Published on Oct. 27, 2017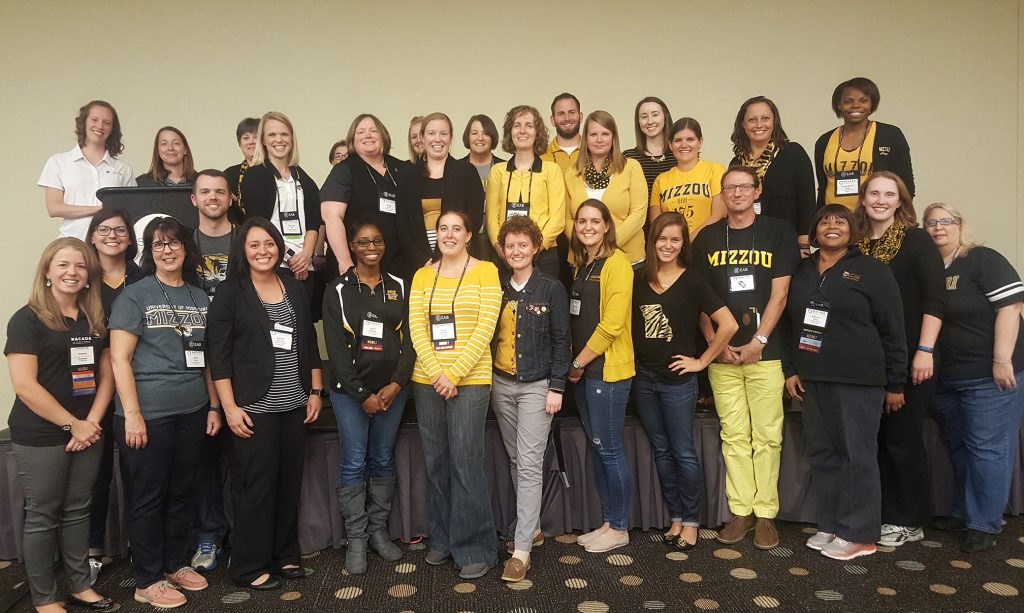 Earlier this month, more than 3,000 academic advisers met is St. Louis for the annual NACADA: The Global Community for Academic Advising Conference. Among those in attendance were 35 advisers from Mizzou.
The conference is the largest event of the year for NACADA, which promotes and supports quality academic advising in institutions of higher education to enhance the educational development of students. This year's conference included 26 pre-conference workshops, a keynote address and nearly 400 concurrent sessions and panel discussions.
"Attending the NACADA Conference provides an opportunity to meet advisers from across the country involved in similar work and tap into a wealth of professional resources," says Racheal Orr, Assistant Dean and Director of Advising in the College of Arts & Sciences. "Through conference sessions and events, advisers learn best practices to bring back to our own campus and use that knowledge to implement new initiatives or improve practices."
Lori White, vice chancellor for students at Washington University in St. Louis, delivered the keynote address. White, who has spent more than 30 years working in higher education, is responsible for a range of student life programs at Washington University. Her research and teaching emphasis is on the student experience in higher education and the preparation and mentorship of new, mid-level and aspiring senior student affairs professionals.
"The NACADA Conference is a wonderful experience as an adviser," says Laura Friedrich, Coordinator of Student Services in the College of Agriculture, Food and Natural Resources. "We all wear many hats—in addition to advising—and conferences such as this one give us the opportunity to hear what is working at institutions across the nation. Plus, it's great networking for each of us."
An awards ceremony is among the events and, although she was unable to attend, Mizzou's Sharon Wood-Turley, an assistant professor in the College of Agriculture, Food and Natural Resources, was a recipient of the Outstanding Advising Award for Faculty Academic Advising. The award recognize effective advising qualities and practices that distinguish the recipient as an outstanding adviser. Wood-Turley was one of 10 advisers nationally to receive the faculty academic advising award.
Cecilia Olivares, a senior student services coordinator at Mizzou, is part of the NACADA leadership, serving as administrative division representative on the NACADA Council.
"NACADA has over 13,000 members representing 36 countries and over 2,100 institutions," Olivares says. "Members are academic advisers, faculty advisers, administrators and graduate students who develop and share innovative theory, research and practices in academic advising in higher education throughout the world and through various events and publications."
On Feb. 6, Mizzou will host a one-day summit for advisers from all four campuses of the UM System to gather and discuss many of the topics covered at the NACADA conference.