Rob McDaniels Named Director of Mizzou Career Center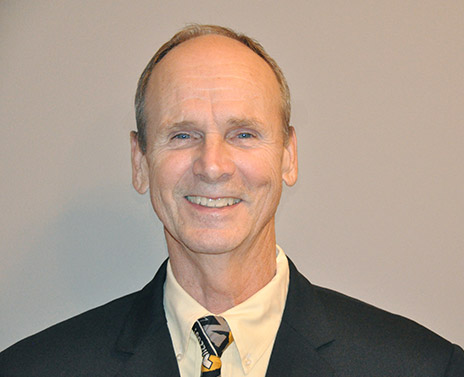 Rob McDaniels has been named director of the Career Center at the University of Missouri. McDaniels, who has part of the MU Career Center staff since 1987, begins his new role as director on Sept. 1.
"I look forward to connecting with students and I am honored to be a part of their lives," McDaniels said. "I am excited to work with our dedicated staff on not only meeting the present challenges, but anticipating and strategically planning for the future."
McDaniels was director of MU's Job Development Programs from 1987-93 before serving as director of Student Career Services from 1993-2000. He became assistant director of the MU Career Center in 1996 and was promoted to associate director in 2007.
"Rob has been a valuable member of the Career Center and our campus for many years," said Jim Spain, vice provost for undergraduate studies. "Along with his experience, Rob brings a great deal of passion to his work. We have a terrific staff in place at the Career Center and with Rob leading that team, we are excited about what the Career Center has in store in the future."
The MU Career Center offers a comprehensive range of services and resources to assist students with their career exploration and development. The Center's services are built on a foundation of research and best practices in career development and counseling psychology.
"The Career Center is positioned to make a difference in the lives of students," McDaniels said. "Whether that be by helping them understand more about their strengths, teaching them how to write a successful resume and how to conduct themselves in an interview, or helping them find an experience that will solidify their career choice, we have resources that serve a wide-range of student needs."
McDaniels earned a Bachelor's of Arts degree in psychology from Columbia College in 1976 and a Master's of Arts degree in counseling from the University of Missouri in 1978. From 1976-87, he worked in various capacities at Columbia College including assistant director of admissions, adjunct faculty member, associate dean of faculty and dean of CC's Evening College, before joining the MU Career Center staff in 1987.
"I struggled to figure out what I wanted to be," McDaniels said. "In that process, I discovered my passion. I love working with students, parents, faculty and staff and the University environment is exciting and challenging."
McDaniels succeeds Joe Johnston who is retiring after 50 years at MU. Johnston founded the Career Center (then named the Career Planning and Placement Center) in 1974.