Loftin visits MU's Capitol Interns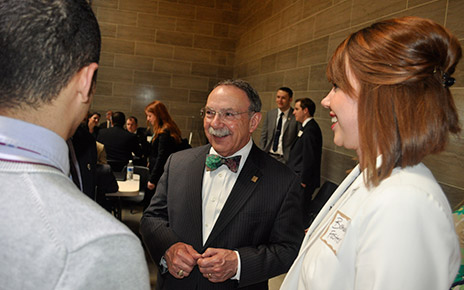 Mizzou legislative interns had lunch with a special guest during an event hosted in their honor at the Missouri State Capitol on April 15.
MU Chancellor R. Bowen Loftin visited with students who spent the past semester as interns in offices of state legislators as part of the Civic Leadership Intern Program (CLIP). Loftin conversed with students about their future plans, happenings at MU and important societal issues.
Sean McLafferty and Bethany Foster were two CLIP interns who spoke with Loftin. McLafferty, intern to State Representative Jeff Roorda, said meeting Loftin was a great experience.
"He was very nice and approachable," McLafferty said. "We ended up discussing education, and he gave an interesting and unique perspective that I hadn't thought about before."
Foster, an intern to Speaker Pro Tem Denny Hoskins, agreed.
"It was a really cool experience for me," she said. "It was humbling to meet such an awesome leader of Mizzou. He is so nice and really well-rounded."
About 40 students attended the event. More than 80 MU students intern at the Capitol in some capacity with most of the interns coming from CLIP.
CLIP supports sophomore, junior and senior students who are looking to serve the state of Missouri through internship opportunities in public-funded offices. CLIP provides site placement services, orientation activities and regular visits to each site. Interns are able to receive academic credit for their internships. Sites include the lieutenant governor's office, the Department of Agriculture, the attorney general's office, and the offices of state representatives and senators.