A New Way to Lecture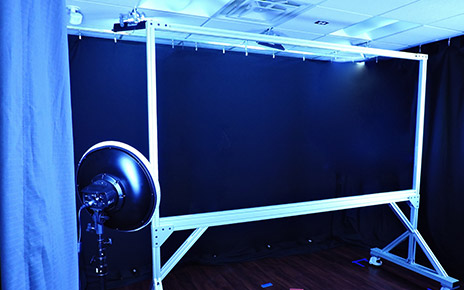 The University of Missouri's best-kept secret, according to Brad Mitchell, senior media producer for Educational Technologies at Missouri (ET@MO), weighs 400 pounds and stands eight feet tall. Located on the second floor of the Heinkel Building, the Lightboard is the newest addition to the services and tools MU's Instructional Media Studio offers faculty.
The Instructional Media Studio and its staff help faculty produce quality video, audio and photographic resources to supplement and enhance student learning. The facility is home to state-of-the-art equipment and technology, such as the Lightboard, which faculty can use at no charge.
"A lot of faculty don't know about the studio or that we are even here," Mitchell says.
The Lightboard is a new video recording tool that allows faculty to simultaneously write and face an online audience. The Lightboard is a transparent glass board, much like a whiteboard, on which faculty can write notes and equations, draw diagrams and project images and photos. Users stand on one side of the board facing a camera as they write and lecture. As the camera records the lecture, mirrors in the studio flip the image of the board so the writing is legible to viewers.
Mitchell says the Lightboard is most useful for faculty who teach online classes in mathematics, science and engineering. Because faculty can draw highly visible diagrams and equations and work with their drawings in a natural way, he believes the Lightboard helps keep students engaged in an online environment.
"Everyone has trouble paying attention, especially online," Mitchell says. "If something is boring, you're going to lose interest really quickly because you're not sitting in a room around your peers engaged face-to-face."
Heather Hunt, associate professor of bioengineering, uses the Lightboard in videos she posts for her students.
"The Lightboard lets me present, in great detail, engineering deviations and calculations, which are challenging to do in a PowerPoint," Hunt says.
Hunt utilizes the Lightboard and other tools in the studio to infuse creativity and flexibility into her lectures.
"I've heard horror stories from my engineering students about poorly done online classes, so when my department decided to try my class online, it was very important to me to actually do it well," Hunt says. "As engineering professors, we really need to make sure our students learn because if they don't, the technology, equipment and facilities they will go on to design and build might fail. We can't afford to not engage our students."
Although the Lightboard has been available for several months, only three faculty members, including Hunt, have used it. To spread the word about the Lightboard, Mitchell created a promotional video that was posted in January. Mitchell says much of the attention the Lightboard currently receives comes from word-of-mouth.
"It hasn't been quick to start, but we want people to know it's here," Mitchell says. "It's definitely expanding, but it's been a slow rollout."
One reason Mitchell believes faculty may be reluctant to use the Lightboard and other technology in the studio is because many people are hesitant to appear on camera.
"They think the process is going to be really complicated and really taxing for them, but almost everyone who comes in is comfortable within five minutes," Mitchell says. "They realize it's easy and it's no big deal."
To make the process less intimidating, Mitchell spends half an hour setting up lights and cameras before faculty come into the studio to begin filming. He also encourages faculty to practice with the technology before he turns on the camera.
Other services the studio provides include recording traditional lectures and providing access to green screen technology for faculty. Once lectures are recorded, Mitchell edits them and helps faculty members put them online.
"The Lightboard is an amazing addition to the services currently offered," Hunt says. "I would highly recommend its use to anyone who needs to provide recorded lectures of technical subjects, whether for a missed class or for an online offering."