Learning Center Honors Excellence in Tutoring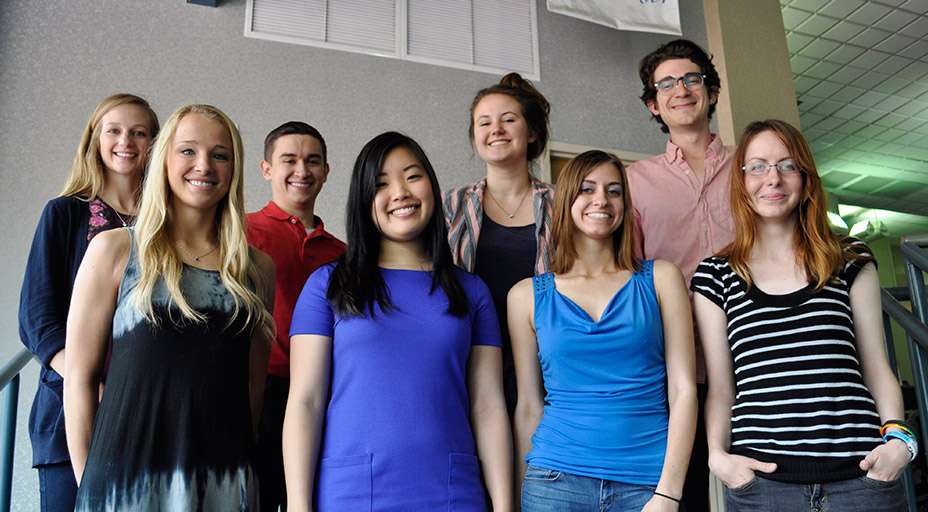 The Learning Center at Mizzou honored 10 student tutors with the 2015 Bonnie Zelenak Excellence in Tutoring Awards Friday, May 8. These awards recognize tutors who have distinguished themselves through their enthusiasm for teaching, use of innovative ideas and dedication to helping students succeed at MU.
The 2015 recipients are:
Chris Baumann – Algebra & Finite Math
Molly Benton – Statistics
Joy Han – Writing
Amanda Mueller – Chemistry
Jennifer Para – Writing
Nichole Rieken – Accountancy, Management, Statistics & Economics
John Tenny – Spanish & French
Lisa Weeda – Calculus
Kaystin Weisenberger – Biological Sciences
Katie Youmans – Chemistry
"We couldn't do what we do if it weren't for the tutors," said Phil Deming, director of The Learning Center. "All of our tutors, working closely with our Tutoring Coordinators, are dedicated to helping their fellow students succeed. These 10 tutors have been recognized for showing a great work ethic and a passion for helping others."
The awards are named after Zelenak, who founded the Learning Center in 1976.
The Learning Center offers free academic services and tutoring through student-centered and interactive support. It serves more than 8,000 students each year with as many as 380 tutors.