Published on May 2, 2016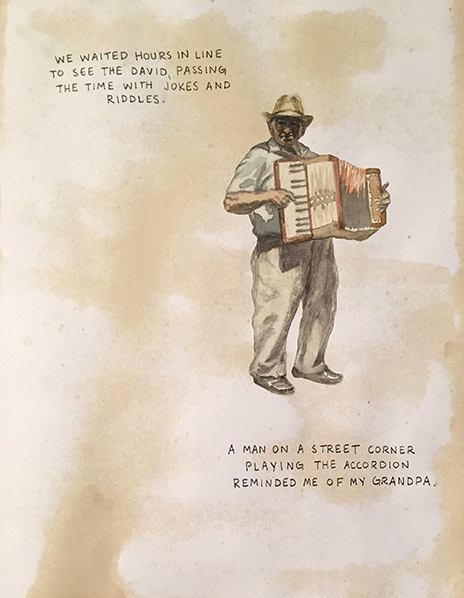 Last summer, before beginning her final semester at Mizzou, fine arts major Karesse Wilkey traveled to Italy to get an up-close look at some renowned sculptures.
She was one of 10 MU students on trip along with art professor Mark Langeneckert. Among the places the group visited were Florence, Rome and Venice. During the trip, Wilkey drew portraits of each member of the group, portraying them as saints with gold halos and put together a 16-page book that highlights some the adventures in Italy.
"Karesse's general attitude, respect for the culture and willingness to help her peers stood out to me while in Italy," Langeneckert says.
Wilkey had previously taken Langeneckert's classes in portrait drawing, illustration and advanced illustration.
"Each time I had her in class, she produced some really stunning and interesting work," Langeneckert says. "She's just a really superb student."
Upon arriving in Italy, Wilkey was not sure what she wanted to create; she was out of her comfort zone and had to search for inspiration.
"I looked through all my pictures and started drawing scenery, but it didn't seem as personal as I wanted to get," Wilkey says. "After looking at all the beautiful religious paintings in cathedrals and museums, I decided to mix my love of portraiture with the Italian Renaissance feel that was still pulsing through Florence. Who better to draw than the people who I got to know on my trip?"
Wilkey painted portraits from photos she took of her fellow group members, including Langeneckert, looking off into the distance.
Another one of Wilkey's projects Langeneckert oversaw was entitled Classical Trash which was displayed at the inaugural Undergraduate Visual Art and Design Showcase in January and at the Bingham Art Gallery's Undergraduate Juried Exhibition in February, where she received one of two $100 Berneche Awards selected by MU professor emeritus of drawing and painting Jerry Berneche and his wife, Joanne.
"Classical Trash is a painting series that revolves around sculptures from classical antiquity living in a trailer," Wilkey says. "It focuses on the juxtaposition between high and low socio-economic classes."
Langeneckert points out sculptures are most often elevated to a high standard of beauty in the art world, so it is unique that Wilkey drastically changed that notion by portraying the lower socioeconomic class.
Wilkey's most recent work is a paper-mache sculpture of Venus de Milo, a character from the Classical Trash painting series, wearing curlers in her hair and smoking a cigarette.
"I have used my experience in Italy to influence my art by touching on cultural topics that I sometimes wouldn't think of otherwise," Wilkey says. "For example, the way we use currency in the U.S. or customary greetings and social situations."
Wilkey has learned that money should not prevent one from pursuing his or her dreams and goals. "Classical Trash provides somewhat of a celebration of the lower class," she says.
Wilkey began her Classical Trash series prior to the trip to Italy, but it grew conceptually while we went there, according to Langeneckert. "The series got deeper and richer in how she was portraying statues after she got back," Langeneckert says. "She started thinking more about what it means to be an artist and to make art."
Wilkey's journey as an artist began when she was a child. She enjoyed drawing the cats featured in Lisa Frank coloring books and learned she had a natural talent for drawing when her mom thought her free-hand drawings were tracings.
"I received a lot of encouragement from my family and friends when it came to drawing and making up stuff," Wilkey says. "In high school, although I only took the basic art foundations class, I started to teach myself how to draw better by drawing portraits of famous people. They didn't start out so good, but each one increased exponentially."
In college, Wilkey continued to meet people who inspired her to continue making art.
"I am inspired by looking at others' art, although sometimes that can be equally intimidating," she says. "I am really inspired by people who do not put up a filter, and instead, draw and paint exactly what they feel they should; the reasoning to create art for them seems natural and driven by an inner force. I work my best when I experience this feeling myself. In those moments, it just feels like there's nothing else I would rather be doing, and I think those feelings communicate through your hands into your work."
Although she began her college career as an art major, she switched to psychology one year later, in fear of job security. However, her love for art brought her back.
"I figured if I was going to be panicking no matter what about my job situation out of college, then I might as well take classes I really enjoy until I graduate," Wilkey says.
With a bachelor's degree in fine arts and a minor in psychology, Wilkey graduated from MU in December and has been working as an art instructor at a juvenile justice center in Columbia.
"It's a really awesome opportunity that I wouldn't have been able to get unless I had received my BFA or had a year of teaching experience," she says.