Humorous by Design
Senior Kara Rinella uses comics for her graphic design inspiration.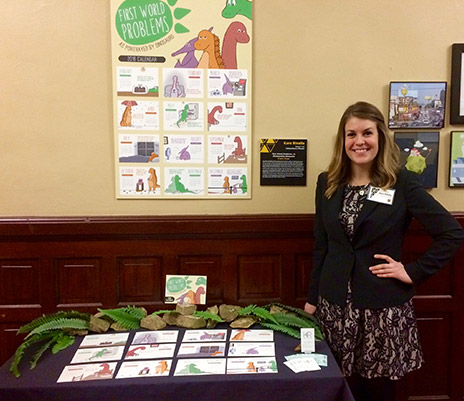 Classic comic strips have often paved the way for senior Kara Rinella's artistic vision. That was the case when developing her calendar design, First World Problems, as Portrayed by Dinosaurs. A graphic design major, Rinella received a People's Choice Award at the Undergraduate Visual Art and Design Showcase in January for the calendar.
"It was an honor to have the opportunity to present my work to the public," Rinella says. "Knowing that my goofy dinosaur calendar made an impact on viewers is such a great feeling."
Most of the inspiration for the calendar came from comic strip artists including Charles Schulz, creator of Charlie Brown, and Bill Watterson, creator of Calvin and Hobbes.
"Those comics really influenced my drawing style when I was younger, and I knew, when I was creating my First World Problems calendar, that illustrative style would work perfectly to really bring out the quirkiness and humor of my concept," Rinella says.
Growing up, her sketchbook was typically filled with comic book and newspaper cartoons. She would spend hours toying around on computer image editing programs including Gimp and Photoshop. She loved viewing the endless things she could create.
She also enjoys scouring different design projects on Pinterest and Behance, Adobe's online community that allows users to showcase their work.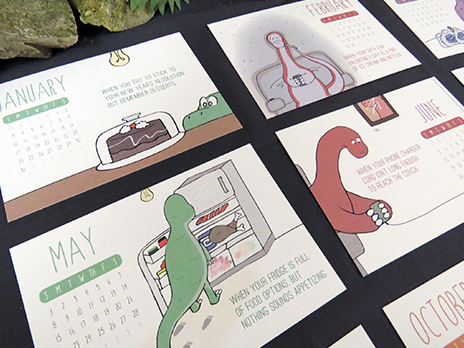 "Even in just everyday life, there are always new experiences and different things to learn—you just have to keep an open mind," Rinella says.
Her projects have well-thought-out concepts with witty words and images in the form of calligraphy and illustrations, Rinella's faculty mentor Jean Brueggenjohann says.
"Almost all of Kara's work has some element of fun in it," Brueggenjohann says. "This fun aspect is very positive and feels good, and the dinosaur project fits right in. You look at her work and it makes you smile."
Brueggenjohann says Rinella is a tireless worker and a perfectionist.
"All of Kara's work is excellent and it just keeps getting better and better," Brueggenjohann says. "She always puts everything she has into a project."
In the future, Rinella would like to work at an advertising agency or design firm or write and illustrate children's books because she thinks her illustrations appeal most greatly to a young audience.
"I think her best talent is taking a great idea and seeing it in an unusual and compelling way," Brueggenjohann says. "With that, she has great design and typography skills to present her ideas in the best way possible. She does all of this with confidence and great attention to detail. That is why her projects are so successful and visually beautiful."