Published on March 29, 2016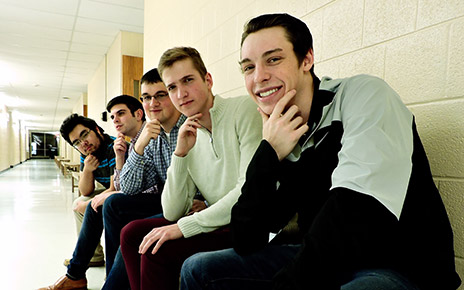 Although members of the MU Debate Team have competed at several tournaments this season, team members have no idea what to expect at their next competition. Debate topics presented could be about anything. Participants may be asked to debate the merits of John Locke's economic philosophy, or the benefits of legalizing online poker in California, or whether the pen is truly mightier than the sword.
"I love the ways debate challenges us, not only as students but also as individuals," Nick Benham, MU senior and debate team president, says. "It asks us to expand and think critically about our understanding of policy, politics and broader society."
The MU Debate Team is a student-run organization that was founded in 2012. The six-member team travels across the country to tournaments where it competes against other collegiate debate teams. This season, the team has traveled to tournaments in locations such as Chicago, Illinois, Pueblo, Colorado and Salt Lake City, Utah.
At tournaments, participants engage in parliamentary debate in which two teams of two discuss an assigned topic about current affairs or philosophy. Although MU's team is only three years old, members have distinguished themselves this season by winning several top-speaker awards and advancing to elimination rounds at multiple tournaments.
Benham and his partner, sophomore Mitch Herrick, have also been invited to participate in the National Parliamentary Tournament of Excellence, which is a prestigious invitation-only national tournament held once per year. This year, the tournament will be held in Torrance, California, March 13-16. The last time Mizzou students attended this tournament was in 2006.
"This is by far the most successful season our debate team has had in recent memory," Benham says. "I'm really happy with the progress we've shown."
In addition to participating in tournaments at other universities, the team hosted its own tournament Nov. 14-15, 2015. Debaters from universities such as Washburn, Texas Tech, and California State-Long Beach traveled to MU to compete.
Although the team has enjoyed a successful season so far, Benham says maintaining a strong debate team at MU can be challenging. Because the team is student-run, members must coach themselves.
"We face a significant competitive disadvantage compared to other more established programs," Benham says. "Our older members are responsible for both improving themselves as debaters and teaching younger debaters everything they know. That can be a challenge at tournaments where we have limited time for preparation, and we have to coach each other as well as compete."
One of Benham's goals is to find a dedicated faculty member or graduate student to coach and accompany the team to tournaments. He also wants to earn more recognition and support from faculty, students and members of the debate community.
In an effort to secure funding and recognition, members of the team have met with administrators and professors who they believe can help the team accomplish its objectives. William Horner, director of undergraduate studies for MU's political science department, has served as an advocate for the team and helped raise money so the team could to travel to tournaments.
"Debating is a great academic tradition," Horner says. "I believe it offers a rich opportunity to students who want to debate, and having a team on campus sends a powerful signal about the university to the country."
Although Benham believes that obtaining resources and recognition is only the first step in establishing a successful debate program, he says the team has come a long way since it was founded.
"We've made some great steps forward as far as institutional recognition goes," Benham says. "We have received university funding for both this season and the next one. We're thrilled that the university recognizes the benefit of debate and the exposure that a successful program can bring to Mizzou."
Along with the National Parliamentary Tournament of Excellence, the team will compete in the National Parliamentary Debate Association Championship Tournament, which will take place in Long Beach, California, March 18-21.
"I think that Mizzou is a standout educational institution, and debate is one of the most valuable educational activities a university can sponsor," Benham says. "Debate complements Mizzou's mission very well, and I'm proud to represent the university at competitions across the country."