Published on Aug. 26, 2019
Summer Welcome is the perfect opportunity for incoming freshmen to meet their peers and get acclimated at Mizzou. At one of 21 sessions over five weeks, new Tigers stay overnight on campus for the first time and meet with their welcome leaders who guide them throughout the week and facilitate various bonding activities. Freshmen meet with their academic advisor and plan out their schedule for the upcoming fall. Welcome leaders also perform in a variety show at Jesse Hall to wrap up the fun-filled experience.
Read on to meet a few of our enthusiastic Summer Welcome leaders and get their take on how the annual orientation event is critical for all incoming freshmen.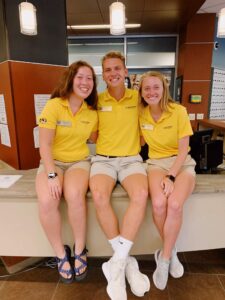 Julia Ensor
St. Louis
Junior, mechanical engineering
"My favorite moments as a Summer Welcome leader were the ones spent with the other leaders getting to know them on a deeper level. I now have 35 extremely close friends from all different walks of life, and I wouldn't have met them had I not been given this position. The most rewarding moments were when students or their parents and guests would seek me out to ask a specific question about my experience here or to give them a recommendation. Being the only engineering student in the group, I had a lot of incoming engineering students ask me about how to be successful here."
Tillman McClunie
Blue Springs, Missouri
Sophomore, journalism
"My favorite memory from when I was a freshman at Summer Welcome was Revue. Leaders put on a series of skits to review important materials learned throughout the day. The performances were presented in an entertaining way that we, as students, would be able to relate to. Another one of my favorite memories was the small group activities. We learned about some Mizzou student traditions and had 'chant wars.' I had fun talking with the other students, expanding my knowledge and putting together a hilarious work of art to perform in front of the other students."
Conner Sibley
Houston
Sophomore, health sciences
"Being a Summer Welcome leader is a much different kind of experience than attending the event as a student. I had such a good experience at my Summer Welcome that on the way home I told my dad, 'I'm going to be a leader next year.' There were a lot of memorable moments as a leader — usually being loud and borderline obnoxious with the other leaders. It was always amazing to see a student who really wanted to be at Mizzou. It was also awesome to see students who came in a little nervous slowly come out of their shell as the week went on."
Jessica Tifase
Houston
Junior, digital storytelling
"As an incoming freshman, Summer Welcome is extremely important because students get important information about starting at Mizzou. It's also the first time where I really felt like I was starting a new chapter in my life. After Summer Welcome, I truly felt like an adult and like I was taking a hold of my own life. It's a cool feeling that I can't explain, but I know every freshman gets to experience it after Summer Welcome."
Joshua Varnon
Cape Girardeau, Missouri
Junior mathematics major
"My favorite memory from Summer Welcome my freshmen year was just getting to hear from other students about college life and Mizzou in general. Coming from a small high school, it was super comforting to meet other students before moving into my dorm. I made some great friends through my time as a Summer Welcome leader. They're like my family now. The same goes for the students I interacted with. I wouldn't trade anything for these friendships and memories."