Published on June 24, 2019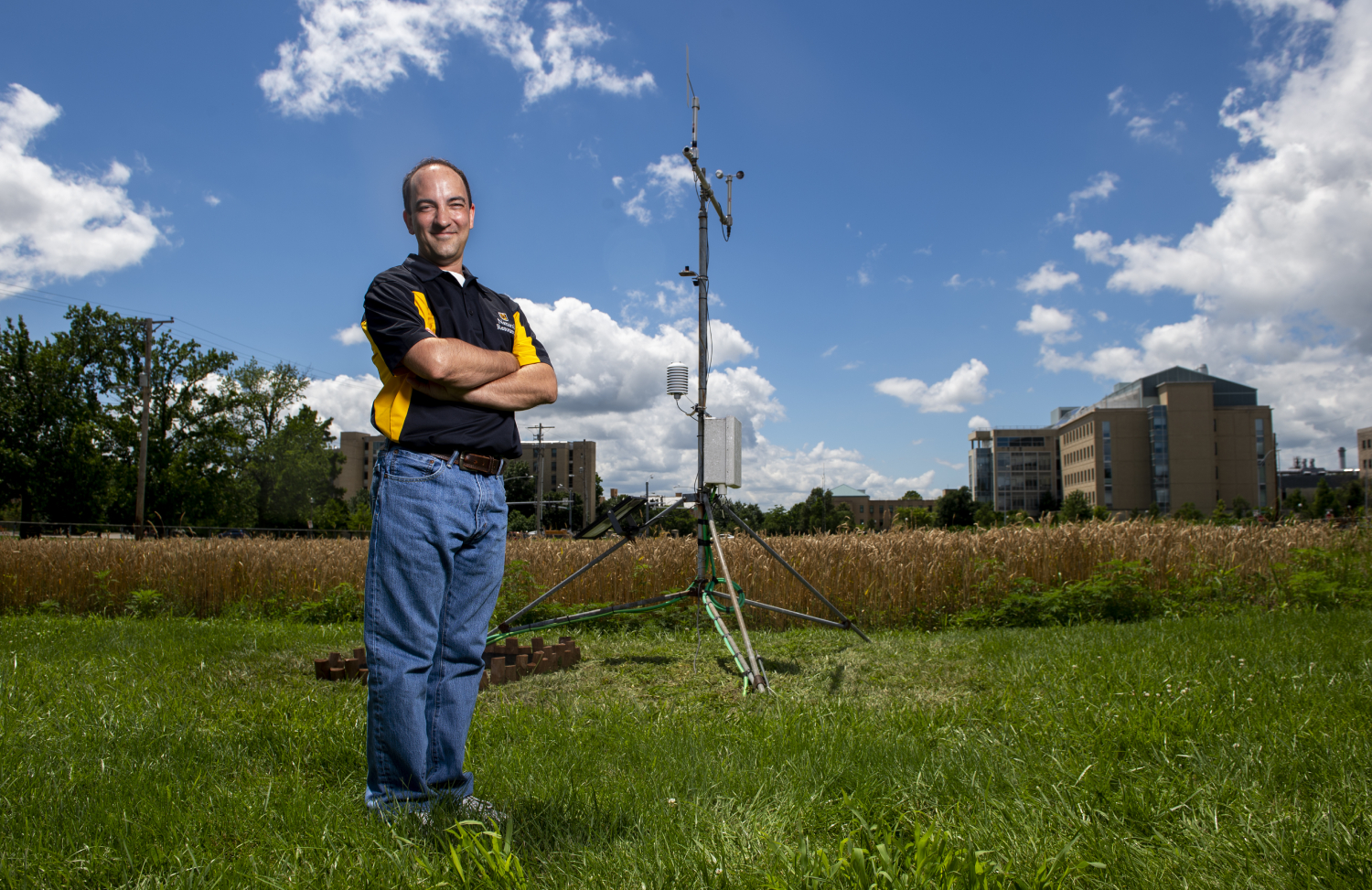 When former KOMU-TV meteorologist Eric Aldrich describes the responsibility that comes with thousands of mid-Missourians relying on his daily insight, he does so with tongue planted firmly in cheek.
"It's a lot of pressure," says Aldrich of the job he held for 13 years. "I have always loved severe weather — tornadoes, blizzards and things that don't happen frequently."
As a young child growing up in St. Louis, Aldrich would hide under his parents' bed during the worst thunderstorms. But when he learned of the predictive science behind the phenomenon, it piqued his curiosity. He job-shadowed KSDK-TV weatherman Scott Connell, and he received his first atmospheric science textbook when he was 13.
"What seventh grader asks for a meteorology textbook for Christmas?" says Aldrich of the technical tome still on his shelf today. "I was hooked."
It wasn't until 2007 when Aldrich discovered his second passion, teaching. He was reluctant at first when Tony Lupo, MU professor of atmospheric science, requested his services. But the veteran professor's persistence paid off, and Aldrich signed on for an introductory course. Again, he was hooked.
"I had 500 participants locked in a room for 50 minutes, three days a week," Aldrich says. "It was awesome to see my students go from week one, knowing nothing about meteorology, to seeing them on the last week ready to pass along that knowledge."
These days, Aldrich splits his time as an atmospheric science instructor and a technology resource coordinator promoting tools used by students and faculty to enhance education. At the center of these efforts is MU Connect, an online platform that keeps faculty members apprised of their students' overall success. Professors, instructors and teaching assistants can raise flags — or give "kudos" — and facilitate communication between students and advisors or other resource offices.
"In about 30 seconds, I can see exam performances for my class, see who scored below 65 percent and send out emails," Aldrich says. "It doesn't take a lot of time, and it's a way to say, 'I'm concerned about you, and here are people who can help you.' "
The strategic plan to promote MU Connect focuses on freshman- and sophomore-level classes with high enrollment in which students might have difficulty finding resources and support for entry-level coursework.
"I can't begin to tell you how many times I've raised academic performance flags on students in my class, and they respond with a thankful note, or they want to make an appointment with me during office hours to discuss their performance," Aldrich says. "Informing students about the Writing Center or the Learning Center is a way that MU Connect helps them succeed at Mizzou. Raising flags in MU Connect helps direct the students to these helpful resources on campus."
Student success stories seem to follow Aldrich wherever he goes. He has mentored 51 meteorology interns over the years who are now in major TV markets, including Cleveland; Columbus, Ohio; Denver; Kansas City, Missouri; and Knoxville, Tennessee.
It's a good bet that climate won't change.
"I enjoy helping students and telling them, 'Great job,' " Aldrich says. "No one has had to twist my arm."