Published on March 22, 2018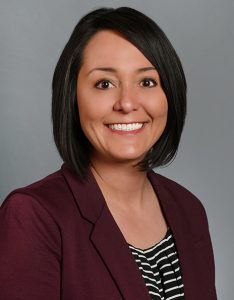 Cecilia Olivares, an MU senior student services coordinator, has been elected to the Board of Directors for NACADA: The Global Community for Academic Advising, which promotes student success by advancing the field of academic advising globally.
"NACADA members are involved in the development of theory, research and practice in academic advising," Olivares said. "The work of the association guides individual advisers and institutions throughout the world. It is quite an honor to be elected to this position by my advising peers within the association."
Olivares' primary responsibilities at Mizzou are to advise transfer students and help develop first-generation and transfer student initiatives, which include developing a transfer student success center and increasing pathway opportunities through partnerships with Missouri community colleges.
A NACADA member for nine years, Olivares was appointed to a two-year term as chair of the association's Emerging Leaders Program Advisory Board in 2014. In 2016, she was elected to the NACADA Council as an administrative division representative for a two-term that ends this year. She has also served on multiple NACADA committees and task forces. Last year, she co-facilitated a project to re-write NACADA's diversity statement.
"As a current Council member, I am involved in many of the discussions and decisions that further the mission of the association and the steps we are taking to realize our goals," Olivares said. "Serving on the Board will extend my involvement to see those to fruition. This also represents my personal commitment to give back to the association that has given so much to me and my professional commitment to further academic advising."
NACADA was created in 1979 to promote quality academic advising and professional development of its membership, ensuring the education development of students. The association has grown to over 13,000 members consisting of faculty, professional advisers, administrators, counselors and other academic and student affairs professionals.
The NACADA Board of Directors is the official governing body of the association and provides direction by developing and maintaining NACADA's vision and strategic plan.
Olivares' term on the Board of Directors beings in October and runs through 2021.
"Those of us at Mizzou recognize Cecilia's commitment to students and their success," said Jim Spain, MU interim provost and vice provost for undergraduates studies. "Her selection to the NACADA Board of Director indicates that her peers around the country have also taken notice of her dedication to students. This is a great opportunity for her to have an impact on a national level. We are proud of Cecilia. We know that she will make important contributions to the future work that NACADA will lead to have a positive impact on students."
As Board of Directors member, Olivares plans to champion academic advising at all levels within and across institutions. She hopes to expand professional development opportunities for advisers and examine the growing diversity of voices and experiences of the advising community. She also wants to expand and apply a framework created for adviser competencies and pathways to further strengthen the professional field of academic advising in research, scholarship and practice.
Olivares has more than 10 years of experience as an academic adviser and advising administrator. Prior to coming to Mizzou, she spent three years as director of the Center for Academic Retention and Enrichment Services at the University of Memphis. She also served as an Experiential Learning Credit mentor and coach at Memphis' Center for Innovative Teaching and Learning and assisted the Vice Provost for Academic Innovation and Support Services with special projects.
"In the past nine years, I have been at three different institutions in three different states, and NACADA has been a constant in my professional experiences," Olivares said. "Through the transitions, NACADA colleagues never hesitated to put their time and energy into helping me make connections, giving me feedback, lending an ear, and providing resources and opportunities when I needed them."
Olivares earned a bachelor's of arts degree in foreign language and international affairs from the University of Puget Sound in 2000 and a master of education in higher education administration from Iowa State in 2002.