Published on March 15, 2018
According to a recent Career Outcomes Survey, 90 percent of MU graduates are successful in finding employment or continuing their education within six months after graduation. This level of success is due in part to career services offices at Mizzou, including the MU Career Center.
While other career offices on campus host career fairs and focus on job placement within a specific field, the Career Center's emphasis is on exploration and preparation during college. The center offers students a wide variety of resources, both online and in-person.
The center is nationally recognized for its leading use of paraprofessional training—trained undergraduate and graduate student employees with a broad range of skills who offer advice and guidance to students in their major or career search.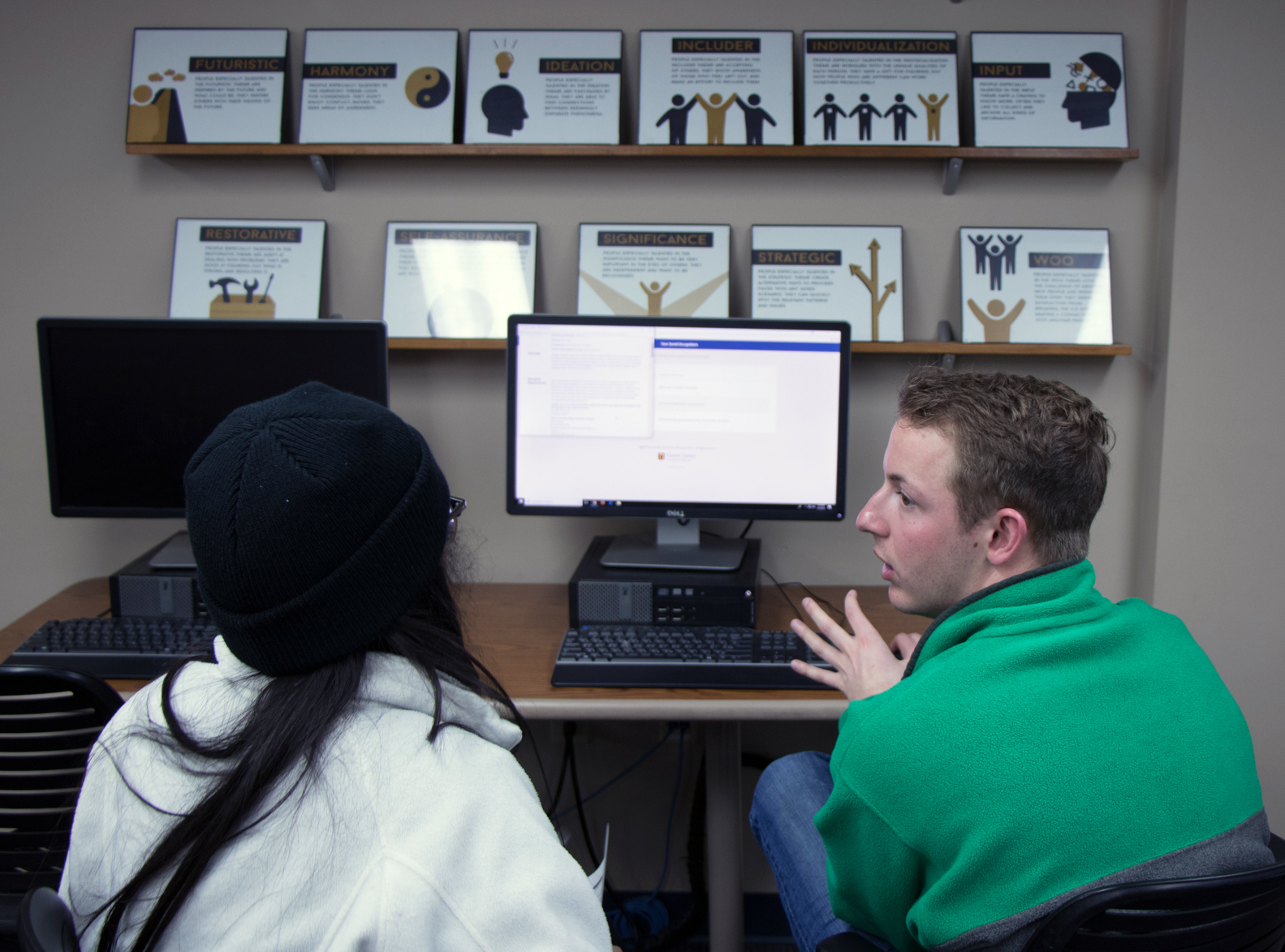 "Most career centers have a huge staff of full-time employees that do one-on-ones with students, and it's all on an appointment basis," Student Service Coordinator Amanda Nell says. "We really pioneered the use of paraprofessionals back in the 1970s. It affords us to have walk-in services, which is really unique."
With about 7,000 students using these resources each year, the MU Career Center offers services and activities to help students prepare for career and major exploration, both during and after college. Some of the office's key programs are career counseling, self-assessments, resume help, interview preparation, and career exploration classes.
One student who has participated in a career exploration course, sophomore sociology major Kaelyn Sturgell, says the class prepared her for making big decisions and decide on a major.
"I honestly think the Career Center is largely responsible for the peace and joy I have in my current major and in my future," Sturgell says. "The staff obviously helped guide me into declaring a major, but they also unknowingly helped me gain a new level of self-confidence and certainty in my passions and goals."
The Career Explorations course is offered in both the fall and spring semesters and is usually taught by a Career Center staff member and, during some semesters, co-taught with an academic adviser from another department. This one-credit course delves into the workings of selecting a major, selecting a career, and taking advantage of all the options and opportunities available on campus. Students in this course take a self-assessment, create a LinkedIn profile, and participate in other activities that help them find a major and prepare for a career. The goal of the course is to help students feel more confident about their ability to follow a certain career path or declare a specific major.
This year, the Career Center is working with several other offices, including the Student Success Center (SSC), to offer a similar, two-credit course—SSC 1150—that is specifically designed for students who are undeclared. The center is also implementing changes to its website and HireMizzouTigers.com, which is a resource where students, alumni and employers can go to find jobs, post jobs, learn about upcoming career fairs, apply for experiential education programs, work-study programs, prepare for an interview and more.
The MU Career Center's website has over 500 resources, including sample resumes and cover letters organized by college, class year, major, etc. Everything can be narrowed down through different categories or keyword searches, making it customizable and easy to find.
"What we continue to try to do is make things as accessible as possible for students and to look for what students are looking for," Student Service Coordinator Carrie Collier says.
In addition to keeping up with technological advances and current career trends, the center has started integrating more with academics by holding presentations and workshops for specific classes that have requested the Career Center's services. This collaboration allows the Career Center to work with faculty and students in a way that tailors to the class' unique needs and reaches students where they already are—the classroom.
"I think our role is to help students have an open mindset and understand that they have to be flexible and ongoing learners," Nell says. "We're trying to build those skills so that they're not just finding their first job, but they have the skills to find the next job and the next career."