Behind the Seams
Caitlin Allen earns recognition for her work in costume construction.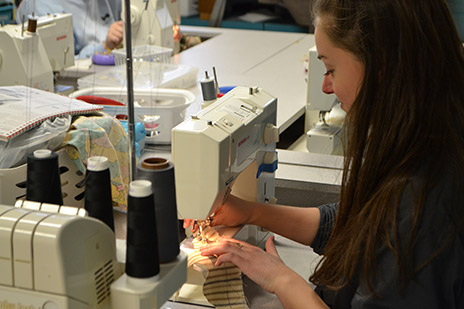 So far, 2016 has been marked by artistic success for MU senior and costume designer Caitlin Allen. Within two weeks, Allen displayed her work Costumes for Lady Capulet and Lady Montague from "Romeo and Juliet" in two showcases and received awards in both.
Allen displayed her work for the first time ever at the Undergraduate Visual Art and Design Showcase in January and received one of four $500 applied design awards to be put toward funding for professional development. A week later, she participated in the Undergraduate Juried Exhibition where she was awarded one of two $300 Berneche Awards selected by MU professor emeritus of drawing and painting Jerry Berneche and his wife, Joanne. That exhibition was on display at the George Caleb Bingham Gallery Feb. 1-25.
"I am extremely excited to have received awards in my first two showcases," Allen says. "Costume design and construction is often not displayed in traditional art shows, so it was great to finally be able to show them off in a gallery. It's also exciting to be recognized for all of the hard work I put into these pieces."
The gowns Allen displayed were created for MU's production of Romeo and Juliet last October. The costumes were worn by student actresses who portrayed the characters of Lady Montague and Lady Capulet.
"If a person had not been to see the University of Missouri's production of Romeo and Juliet, they would have never seen these gowns," Allen says. "These showcases were a great opportunity to let the general public view them."
Adjunct associate professor of costume technology Kerri Packard designed the costumes and gave Allen the task of creating them.
"This involved patterning the garments and creating them," Packard says. "She was dedicated to the completion of these garments, putting in large amounts of extra time to the process. She has a desire to understand how garments go together, and I need for them to be done correctly. As the designer of these garments, I truly appreciate the work that she did on them."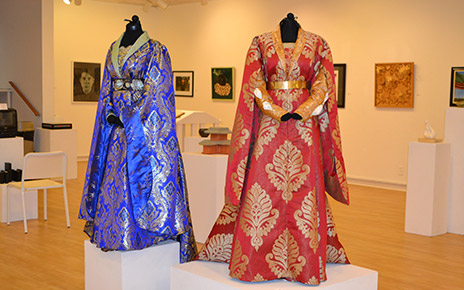 Allen does most of her work at MU's Rhynsburger Theatre Costume Shop because it is the only place on campus where she has access to a cutting table, dress forms, industrial irons and sewing machines to create her costumes.
When doing research for her projects, Allen usually starts at Ellis Library where she can gather information about the time period for which she is creating costumes.
"I am inspired by old paintings, movies and photographs," she says. "I love seeing how people dressed in other time periods and I love learning about the history behind their clothing choices."
Allen came to Mizzou undecided on a major, but quickly discovered her passion for costume design while taking Introduction to Costume Construction. Allen was taking the class just for fun but realized she could make a career out of costume design.
Allen is now an interdisciplinary studies major focusing on theatre costume design, textile and apparel management, and history. She is currently applying to graduate schools and apprenticeships for costume design and construction.
"My dream job would be to work in a costume shop in New York City where they create costumes for Broadway musicals and plays," she says.
Recently, Allen saw Cinderella and was amazed by the production's costumes.
"There is a scene where Cinderella's servant outfit is transformed into a beautiful white ball gown," Allen says. "It is truly amazing to watch and really brings magic to the stage."
Allen would love to design costumes for Les Misérables because it is such an iconic show. "It been done so many times, but I have always loved the show and costumes," she says. "The plot of the show is based off of historical events, so it would give me the opportunity to use all the components of my major to research and design historically accurate costumes."