Published on Dec. 14, 2017
There was a lot for MU senior Christopher Dade to celebrate during the week of Thanksgiving. That week he learned he was a recipient of the George J. Mitchell Scholarship. Dade is one of only 12 Americans selected as a 2018-19 Mitchell Scholar and is Mizzou's first Mitchell Scholar since the program began in 2001.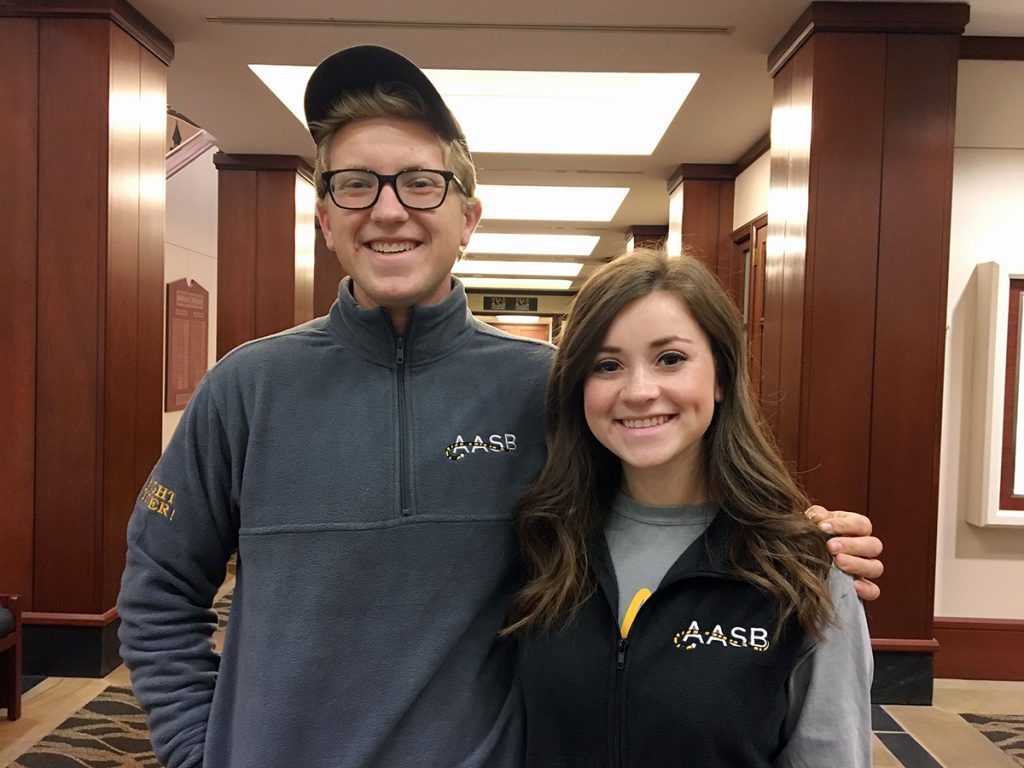 The selection made Thanksgiving extra special for Dade and his family, which is a Mizzou family to the core. Christopher's sister, Caroline, is a sophomore at MU, majoring in journalism and their father, Jay, is an alumnus.
Having spent their childhood years attending football games and cheering on the Tigers, Christopher and Caroline have made their own mark on the university.
Christopher has spent the last four years heavily involved on campus.
"I think my favorite thing about going to MU has been the people that I've been able to meet here," he says. "(Mizzou) has people from every walk of life, every opinion and every political and geographic background, so it's been really exciting to be able to be exposed to all of that and gain a much broader perspective."
Christopher is a tour guide with MU's Tour Team, president of the Associated Students of the University of Missouri (ASUM) and plays the trumpet in Marching Mizzou. He also serves as Vice President of External Relations for the Alumni Association Student Board (AASB) and was in the top ten of this year's Homecoming royalty.
ASUM is a student-run lobbying organization that represents UM system students from all four campuses in Jefferson City. As campus president, Christopher is responsible for advertising ASUM internships, getting local and state representatives to meet with students and driving voter registration on campus.
The organization lobbies for things such as campus mental health resources, sexual assault prevention resources, and a framework to incentivize internships for Missouri STEM graduates.
As a chemistry major, Christopher is working in Professor Jack Tanner's lab, where the focus is on protein crystallography.
"Basically, we study the shape and function of proteins," Christopher says. "We investigate how they work, what they do, and their role in enzymatic pathways. We try to answer a lot of different questions, like how bacteria might produce a certain antibiotic, or how a certain disease progresses in the human body."
With the Mitchell Scholarship, he will study science communication at Dublin City University before pursuing a doctoral degree in chemical biology.
In just her second year at MU, Caroline has followed Christopher with a similar level of campus involvement. She is a KOMU-TV production assistant, AASB member, Tour Team guide and Kappa Alpha Theta member.
Despite her family's involvement with the university, it was not always Caroline's plan to attend MU.
"I didn't always admit to myself that I wanted to come here," she says. "When we were growing up, we came to everything. Our living room at our house was even painted Mizzou gold; it was kind of a lot."
However, following a campus tour, she decided Mizzou was the right fit.
"It just felt comfortable," she says. "It had everything I was looking for."
Caroline is an Honors College student and was named the Outstanding First Year Discovery Fellow in 2016-17. Through the Discovery Fellows program, she worked with Professor Brett Johnson to study how broadcast newsrooms across the country use user-generated content. A paper she wrote based on the results of the research was accepted for publication in the Journal of Media Practice.
With broadcast journalism as her emphasis, Caroline has gained experience in the field by working at KOMU, an NBC-affiliated station in Mid-Missouri. As production assistant, Caroline has worked early morning shifts finding and cutting video, running the teleprompter and doing other similar tasks.
Caroline's goal for after graduation is to start in a lower to mid-size market newsroom and eventually anchor at a large news station on the East Coast.
As a member of the True Tiger committee within the AASB, she helps oversee the student chapter of the alumni association.
"We like helping students form connections with alumni and realize how alumni connections can help you while you're still a student, and not just after graduation," she says.
The Dade's connection to the Mizzou Alumni Association began years before Christopher and Caroline enrolled at MU. Their father served as volunteer president of the Mizzou Alumni Association in 2005-2006. Jay graduated from MU with a Bachelor of Journalism degree in 1985 and earned a JD from the MU School of Law in 1993.
The Dades grew up in Rogersville, Missouri—close enough to Columbia that Mizzou games and events were a big part of their childhood.
"Even though we lived over three hours away, it still felt like a part of our childhood and part of our home," Christopher says. "(MU) played a big role in my life for sure."